---

A+ Sports & More's Baseballfield Field History
The Game of Baseball is more than what many described as America's game, it is, in this author's opinion, the Greatest game ever invented. I am a champion the game of Baseball and understand that the coming generation of world class athletics are all coming from the same place, Our Youth.
My father was born in 1895, at a time when Baseball struggled with the effects of racial segregation in America. I still remember listening to him talk about wanting to play baseball in the old Negro Leagues. But as I searched the History of the game of Baseball and the baseball field that I love, I was shocked to find that somebody has change and or, altered the History of Baseball.
Baseball history and we have been give a clinically edited version of the History of Game and I had to find out why.
I am not a historian nor am I a replacement for Wikipedia but what I am is a baseball, fan just like you, who will give you a look at the history of baseball with my view of "Baseball Between the Lines".
Warren BallPark in Bisbee AZ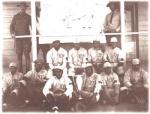 During its hey-day the park played host to Hall of Fame baseball legends. John McGraw led his Giants into Bisbee for an exhibition game against the White
This work is licensed under a
Creative Commons Attribution 3.0 Unported License
.
© Copyright 2015/2016  aplussportsandmore-fanshop-baseballfield.com (A+ Sports & More, LLC) All Rights Reserved