---
"Crosley Field"




Where the Lights Came on In Major League Baseball

.
---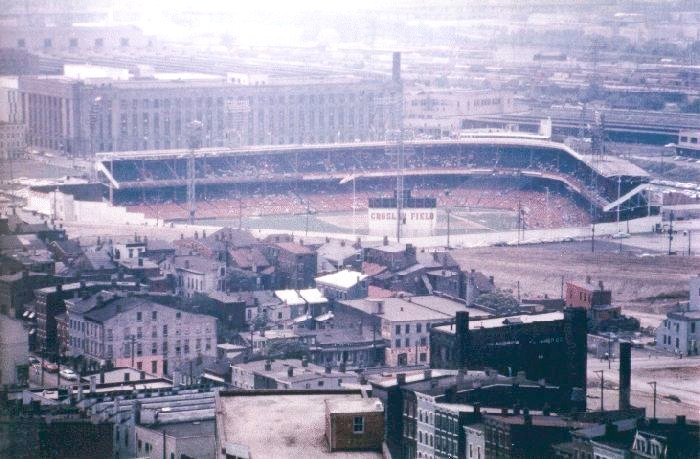 Crosley Field was described as an experience that transcended the game. It was home for the Cincinnati Reds for nearly 60 years and when built in 1912, it carried the name Redlands Park.
This era in Baseball field history is garlanded with a group of Historical baseball parks. Parks like Ebbets Field, Fenway Park, Shibe Park and Wrigley Field. It was Crosley Field, however, where the lights came on in Major League Baseball and the game changed forever.
No single event in baseball history provided a bigger impact on the game of baseball than the lights at Crosley Field. We will look at it in more detail later but let's review how Crosley Field came to be.
---
Crosley Field's Beginning;
---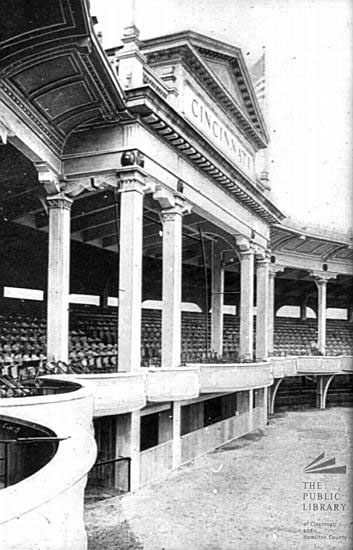 In 1889 the Cincinnati Reds baseball team was purchased by John Tomlinson Brush. Brush was an American sports executive who was the owner of the New York Giants franchise as well Indianapolis Hoosiers in the late 1880s.
The Reds needed a new stadium to replace the ageing and run down Palace of the Fans (Formally League Park). Redlands Park would be the name of this new stadium and it would incorporate the new concrete and steel technology found in all of the new baseball stadiums built in the 1900s.
Redlands Park (Name after the distinctive team colors) would serve as home for the Reds from 1912 through 1934.
Faced with mounting financial problems, the Central Trust Bank of Cincinnati took over financial operations of the Red's and hired Larry MacPhail to run the team.
MacPhail, an accomplished promoter, convinced Powel Crosley Jr. to invest $500,000 and purchase both the Reds Ball Team along with Redlands Park and Powell jumped on the deal.
Powel Crosley, an electronics magnate who, with his brother Lewis M. Crowley, produced radios, refrigerators, and other household items, bought the Reds out of bankruptcy in 1933, and Larry MacPhail came along with the deal to be the General Manager.
 MacPhail insisted that this Jewel Box Stadium should carry the name Crosley Field and the name was changed in 1934.
---
Let There Be Lights;
---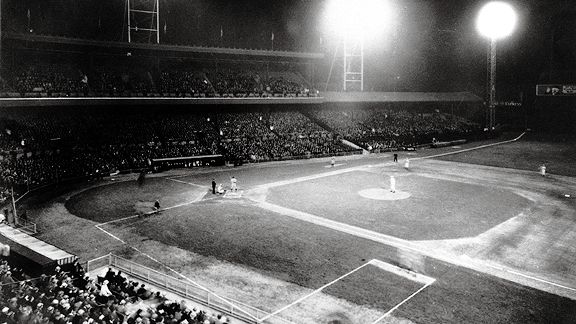 Baseball Almanac offered this description of Crosley Field;
"Crosley Field was an oasis in the middle of a brick and smokestack-filled desert, a bright green carpet covering a small piece of Cincinnati's drab, deteriorating West End. It was a colorful Mecca in a sometimes-gray world, a place of renewal and rejuvenation. Life was simple there — the baseball was entertaining, the heroes were friendly and everybody had fun, no bad times permitted." - The Ballpark Book: A Journey Through the Fields of Baseball Magic (The Sporting News, 2000)
Night baseball was experimented with as far back as 1880's and introduced in minor league baseball in the late 1920s. Major league teams dismissed the idea as a costly gimmick and would not embrace the idea in the beginning.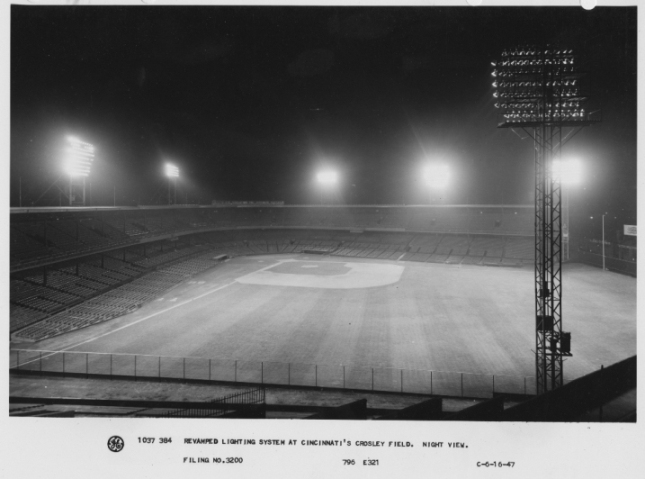 It was the recovery from the Great Depression of 1930 that forced Baseball owners to take night baseball seriously. Attendance at the ball parks was suffering with the blue collar workers (The fan base for baseball) choosing their daytime jobs over attending a baseball game.
The first big-league team to play games at night was the 1930 Kansas City Monarchs of the Negro Leagues, who often played against the House of David baseball team, who carried portable lights mounted on trucks along with their team bus.
It proved so successful that on May 24, 1935 the first Major League Baseball in history was played at Crosley Field. The Cincinnati Reds beat the Philadelphia Phillies 2-1 and the game was forever changed.
---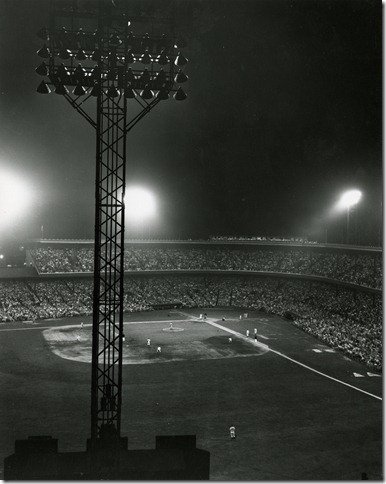 It was a categorically successful move for the game of baseball and an overwhelming success for the fans who loved the game so much.
Night baseball quickly found acceptance in other Major League cities and eventually became the norm; the term "day game" was subsequently coined to designate the increasingly rarer afternoon contests.
---
Stadium's Notable Memories;
1.     Crosley Field hosted football games, boxing and wrestling matches, rodeo and bullfighting. It also served as an outdoor arena with opera, concerts, ice shows, movies and circuses.
2.     The first MLB game played under the lights with President Franklin D. Roosevelt turning on the lights via a telegraph key from the White House.
3.     Crosley Field hosted the sixth annual All-Star Game in 1938. It also hosted the All-Star Game in 1953.


4.     January 27, 1937 - The worst flood in Cincinnati history crests at 79.9 feet and inundates Crosley Field. At the flood's high water mark, 21 feet of water stood at home plate and the lower grandstand was completely under water.
5.     Sight of the famous Black Sox scandal in 1919, when the Chicago White Sox threw the World Series to the Reds.
6.     June 22, 1947: 15-year-old Joe Nuxhall, the youngest player in major league history, pitches two thirds of the ninth inning for the Reds - he gives up five runs on five walks, two hits (both singles), and a wild pitch.  The final score is: St. Louis Cardinals 18, Cincinnati Reds 0.
7.     June 11, 1935: Johnny Vander Meer pitches the first of two consecutive no-hitters, beating Boston 3-0 - the feat has never since been duplicated.
8.     The Beatles played at Crosley on August 20, 1966 and box seats were only $5.50.
---
Field Dimensions:
Left field: 360 (1912), 320 (321), 352 (1926), 339 (1927), 328 (1938);
Scoreboard in left-center: 380, 383 left to right; 
Center field: 420 (1912), 417 (1926), 395 (1927), 393 (1930), 407 (1931), 393 (1933), 407 (1936), 387 (1938), 380 (1939), 387 (1940), 390 (1944), 387 (1955); 
Right-center field: 383 (1955); 
Deepest corner: 387 (1944); 
Right field: 360 (1912), 384 (1921), 400 (1926), 383 (early 1927), 377 (late 1927), 366 (1938), 366 (1938), 342 (1942), 366 (June 30, 1950), 342 (1953), 366 (1958); backstop: 38 (1912), 58 (1927), 66 (1943), 78 (1953).
Fences: 
Center field canvas shield above fence to protect against street light glare (1935 to June 7, 1940);
Left field: 18 (1938), 12 (1957), 14 (1962), 18 (1963); 
Clock on top of scoreboard: 58 (1957), 45 (1967); 
Left-center to right-center: 18 (1954), 14 (1962), 13.5 (1963), 23 (9.5 plywood over 13.5 concrete, 1965); 
Right field: 7.5 (4.5 wire above 3 concrete, 1938), 7.5 (4.5 wire above 3 wood, 1942), 10 (7 wire above 3 wood, 1949), 12 (9 wire above 3 concrete June 30, 1950), 10 (7 wire above 3 wood, 1953), 10 (7 wire above 3 concrete, 1958), 9 (6 wire above 3 concrete, 1959); 
Flagpole in left-center: 82, in play.
[Home]
› [More>> at Baseball Field History].
---
What Is Your Favorite, Modern Baseball Stadium?
I am a Rays Fan and love the atmosphere of Tropicana Field. What's your favorite baseball stadium and Why.

Share your story and win a $10.00 Gift Card for your contribution.