---
Ebbets Field, a Stirring Tribute to
the Man,The Field and The Borough
that Loved them Both. 
---
Ebbets Field, Charlie's Park.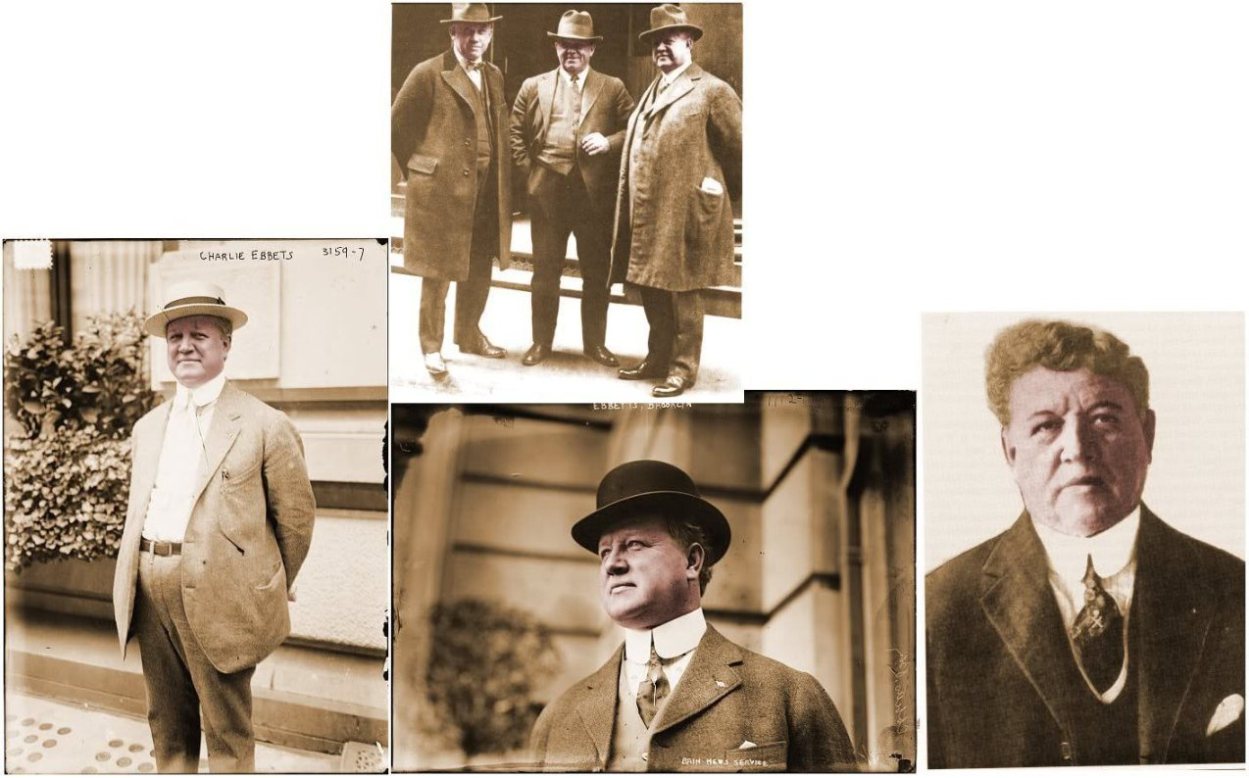 Ebbets Field, owned by Charlie Ebbets, was the culmination of a lifelong dream of a young boy who loved the game of baseball. Born in New York City, in October of 1859, Charles Ebbets grew up in a time and place that embraced the game of baseball with a passion that was rivaled by none.
 By 1858 there were over 125 baseball teams formed in the New York metropolitan area, 71 in Brooklyn and 25 in Manhattan.  Charlie Ebbets grew up in the heart of this baseball revolution and reveled in the rapid changes as baseball fever took over New York City.
Educated as a draftsman and architect, Charlie Ebbets was instrumental in the design of numerous New York City buildings. In 1883 he was hired by, then owners of the Dodgers club, (Charles Byrne, George J. Taylor, Joseph Doyle and Abell Doyle) as a young printer to sell tickets, print score cards and keep the books. 
---
the dream
---
The dream of a glorious new stadium had taken form in the head of young Charlie Ebbets. For the next five years Charlie would learn the business of baseball and by 1890 became a shareholder of the club. At the end of the 1898 season Ned Hanlon, owner of the Baltimore Orioles, bought up the remaining shares of the Brooklyn Dodgers which led to an opportunity for Charlie Ebbets to eventual gain ownership of the entire club in 1905.
---
Original blueprints
---
Here is a historic blue print for the Ebbets Field. This blue print included the covered double deck section down the right field line.
This section along with lights were not built when the stadium first opened. 
With a wealth of experience learned from the years at Washington Park and ultimately watching that first wooden showcase burn to the ground, Charlie knew that he needed a new stadium, a true Jewel Box. Charlie Ebbet's new field would be that Jewel Box and Brooklyn would now have its own new Concrete and Steel Stadium.  The Stadium was originally scheduled of opening in 1912 but it wasn't completed until in 1913. It would served as the home for the Brooklyn Dodgers from 1913 through 1957.
---
Opening Day
---
Opening day at Ebbets Field was major media event filled with all the pomp and pageantry of a New Year's celebration. Brooklyn had joined a select club (Chicago, Boston, Detroit and Cincinnati) of U.S. cities that had a brand new stadium.
Charlie Ebbets new stadium was a spacious venue yet still very intimate. The seating capacity was just over 23,000 and featured a covered double decked grandstand extending from the right field foul pole to home plate and around to the third base side. A lower level section of seats continued down left and extended to the field foul pole.
---
The outside was ornamented with brick and arches which gave it that Coliseum appearance.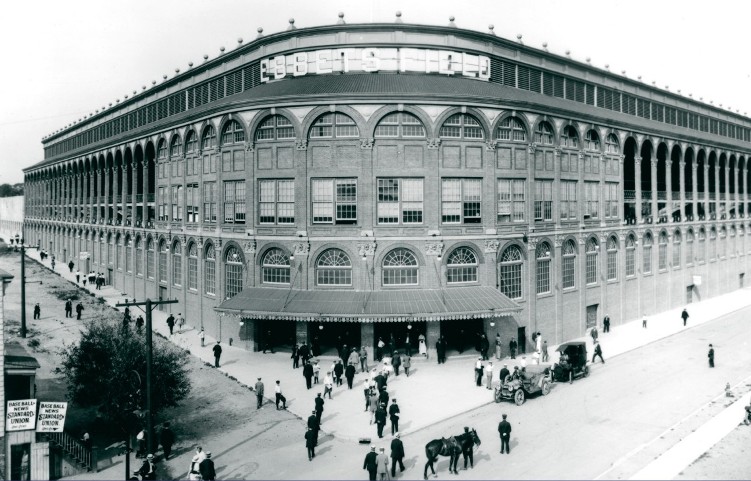 ---
"the rotunda"
---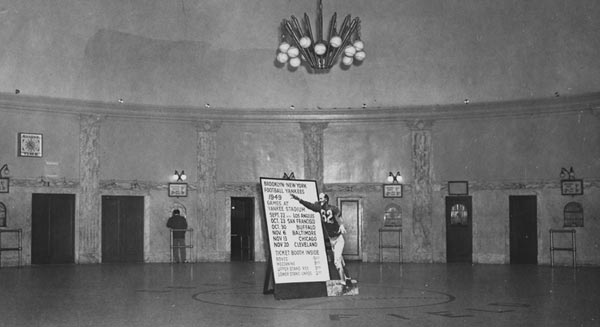 As you entered the park you were met with an 80ft circular Rotunda adorned with Italian marble floor tile depicting the stitches of a baseball. Centered above was a round chandelier with representations of 12 baseballs-bat arms holding 12 globes shaped like baseballs. The domed ceiling was 27ft high and added to the parks spacious feel.
This was hallmark moment for Brooklyn fans and for the next 10 years this new stadium would become the cornerstone of the rise Brooklyn baseball field folklore. Starting with the construction snafu that left out the stadium press box (Later added in 1929) the park laid claim to a host of historical moments that are forever etched into our memories.
Built at a cost of $75,000 Ebbets Field was built on the site of Pigtown garbage dump. This fact would permeate its presence to many fans, especially through the hot summer afternoons. It spawned an almost Cult following of baseball fans in Brooklyn and they loved their new stadium and their beloved Dodgers.
---
Memorable Moments
---
·         The Right Field wall and Schaefer Beer sign would become one of the most recognizable features of any baseball park.
·         Ebbets Field featured a symphony that played in between innings at the home games.
·         It hosted a impressive list of World Series contests: 1916, 1920, 1941, 1947, 1949, 1952, 1953, 1955, 1956
·         In 1947 Jackie Robinson breaks baseball color barrier and become the first Black baseball player to compete in Major League Baseball. He went on to become rookie of the year his first year in the Big Leagues.
·         1938 fans watched Reds, Johnny Vander Meer, spins a  No-hitter against Trolley Dodgers.
·         Charlie Ebbets dies 1925 after becoming ill while visiting family in St. Petersburg, FL.
·         NBC broadcasts the first baseball game on national TV from Ebbets Field, bringing baseball into your front room of American baseball fans. This alongside the Radio broadcasts took baseball soaring in popularity.
---
then she was gone
---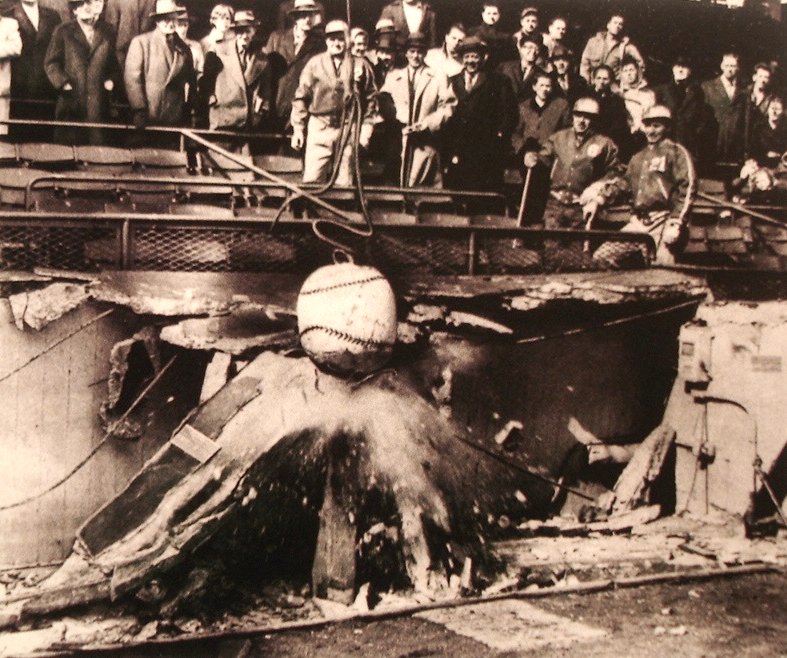 The historical milestones drawn from Ebbets Field are much too numerous to list in this short article. This year we will celebrate the 100th birthday of this glorious park and many will reflect and reminisce about when the game was truly a game and Ebetts Field made Brooklyn Famous.
Along with Fenway Park, Wrigley Field and Tiger Stadium, Ebbets Field was the true Jewel Box stadiums of their era. Eventually falling victim to its own success Ebbets Field would fall victim to the wrecking ball after the Dodger moved west to California in 1960.