---

---
Bennett Park
---

October 12, 1907, in a World Series game between the Detroit Tigers and Chicago Cubs, Detroit, Michigan
Before the famous Tiger Stadium, Detroit's Professional baseball team played in a stadium called Bennett Park.  The park history goes back to the late 1890's and from 1896 to 1911 it was home to the Detroit Tigers Baseball Team.

First let me give a shout out to Scott Ferkovich with SABR from which much of this articles' research was drawn.
In 1890, the Detroit Tigers was a minor league squad playing in Ban Johnson's Western League under the name the Wolverines. It just happened that the team colors sported black and yellow stripes, hence the nick name Tigers caught on and never went away.
The park was named after Charlie Bennett a former catcher for the National League Detroit Wolverines of the 1880s. It initially carried the name Charlie Bennett Park but it was later decided to settle on Bennett Park.
Charlie Bennett was a very colorful player who spent his career playing in Detroit. Tragically he fell victim to a horrible accident that took both of his legs which shortening his playing career. 
He has been credited as being the first catcher to wear an inside chest protector, and to crouch close behind the batter. The Tigers first game at Bennett Park was played on April 28, 1896.
The original Park sat 5,000 when opened  and was gradually expanded to 14,000. It hosted the 1907 World Series game between the Detroit Tigers and Chicago Cubs in Detroit, Michigan. 
---
Bennett park era-1890


---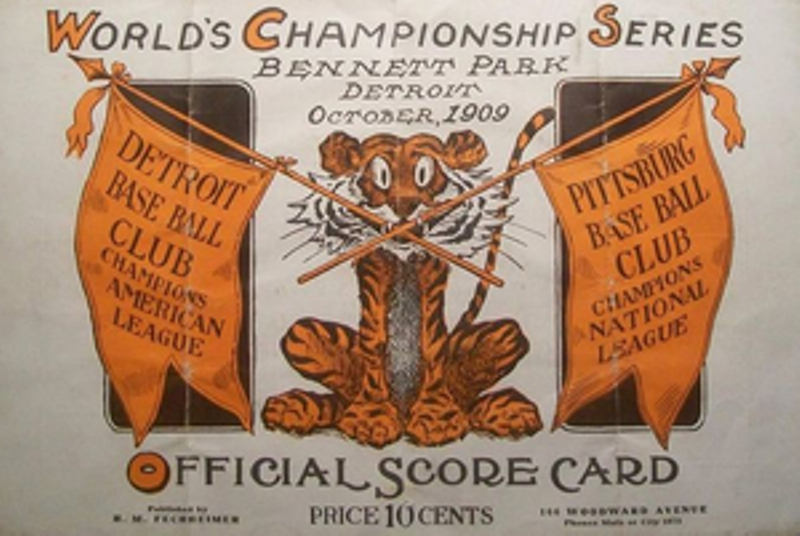 1909 World Series Official Score Card Detroit Tigers
But it was Ban Johnson who played the most pivotal role in building this new baseball park. Ban had a bigger dream than just a new baseball park. He was much more committed to his newly formed Western League which he dreamed would become direct competition to the, then established, National League.
He was part of a group of Baseball entrepreneur's who recognized that they could impact the growth and future of this new business. His new Park, for him, served as his springboard into Baseball History.
The park sat on a relatively small site, (3.3 acres) when compared to parks like Ebbets Field (5.7 acres) and  Hilltop Park (9.6 acres). The field dimensions were tinkered with constantly to keep home runs part of the game.
---
Field Dimensions; 
---
Outfield

 
---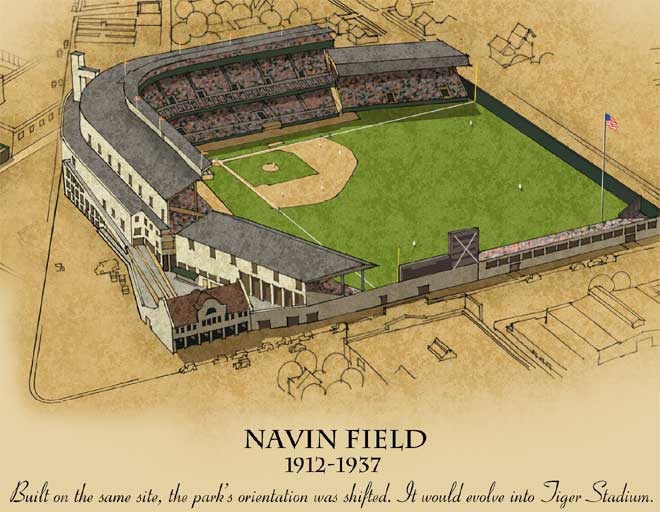 Years
---
1901-1907

1908-1910

1911

All data was estimated from photos and the known dimensions of the land plat.
------------------------------------------------------
Charlie's Stadium was home to Baseball's first experiment in night play. In the midst of a double header with the Cincinnati Red, George Arthur Vanderbeck, who eventually purchased the lot along with the park from Charlie, hired workers to quickly strung up the lights to continue play.
Unfortunately the light technology in 1890 was not bright enough to illuminate the field and the experiment quickly fizzled without much fanfare. We would not see night baseball return until Comiskey Park.
The typical parks of this era were hastily constructed, rickety wooden firetraps, and this Park was no exception. It was never really intended to be a permanent facility, and it showed. The Park's playing surface was inadequate at best, and downright dangerous at worst.  
The park's groundskeepers only raked the field once a week, which certainly didn't help matters.
Despite the inadequacies of the Park, Tigers fans mostly supported their team and hungered for a return to major league status.
After six years of mediocre baseball, the Tigers won the first of three straight American League pennants in 1907. While this was a big improvement over 1906, only 174,043 passed through the turnstiles, it was still next-to-last in the league. An expansion of Bennett Park after the season resulted in capacity increasing to just over 10,000.
---
The site that held Bennett Park is now a memorial meant to be shared with all that love Baseball. In ending let me share a point of view that I thought interesting and hope you might give it some thought also. This commentary was drawn from Detroit's Premier Business Journal which some may consider prejudiced but I agree with their idea.

"Tiger Stadium is gone and we'll never really be able to go back. What remains are ripe opportunities to celebrate Detroit's past and create a new attraction by rebuilding Bennett Park. Vestiges of some historic major-league ballparks remain, such as a portion of a wall from Cleveland's League Park. But no other major American city has yet attempted to reconstruct a classic ballpark. In nearly all cases, it would be impossible to rebuild on the same site anyway, since the land has long since been redeveloped.
A reconstructed Bennett Park could draw considerable interest from vintage baseball teams across the country. Each year, The Henry Ford hosts dozens of teams that play by 19 th-century rules for its "World Tournament of Historic Baseball." That tournament and others could be played at this Park. What member of the "Columbus Capitals," "New York Mutuals" or Dearborn's "Lah-De-Dahs" wouldn't want to play on the very site where Cobb rapped out his first major league hit? Not to mention youth, college and semi-pro teams. The ballpark could serve as a living history museum and be a destination for thousands of fans who long to see the sport as it once was played, well before the advent of luxury suites, electronic scoreboards and multi-million dollar free agents.
Proper planning and responsible financing could make the Bennett Park project relatively affordable. The site is a tax-free renaissance zone and the federal government has earmarked $3.8 million for redevelopment. An approved brownfield plan offers additional financial incentives."
---
Related Oldest baseball parks
---
American League ParK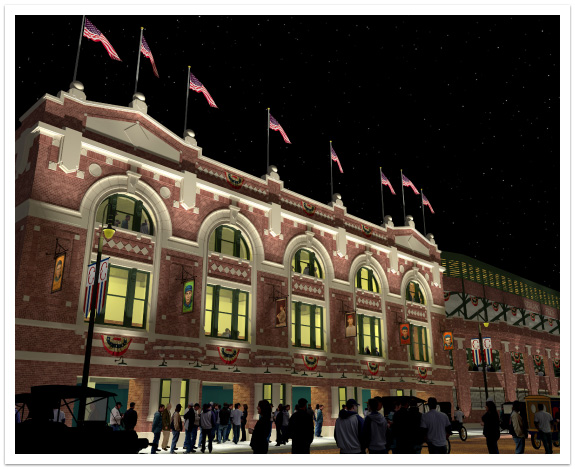 American League Park, known by historians as American League Park I, was a baseball park that formerly stood in Washington, D.C., at the corner of Florida Avenue and Trinidad Avenue, NE. It hosted the Washington Senators from the 1901 season through the 1903 season.
---
Lloyd Street Grounds   
South Side Park 1 & II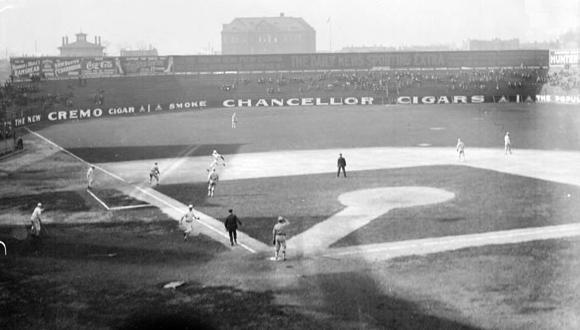 The terms "North Siders" and "South Siders" are synonymous with the respective teams and their fans, setting up an enduring rivalry, between the Chicago Cubs and the Chicago White Sox. The White Sox have always been located on the south side. At the time the White Sox came to town, the Cubs' home field was West Side Park.
---
Robinson Field, St. Louis MO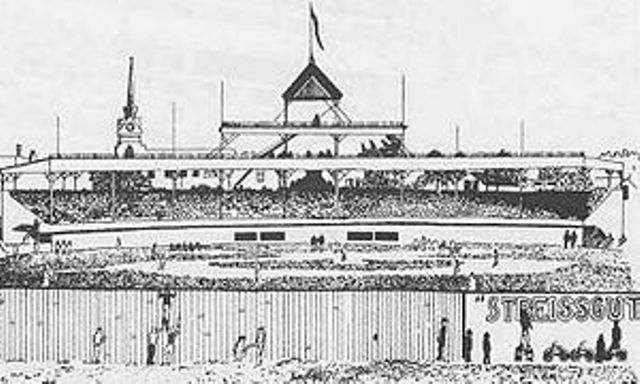 The first occupants of the Lloyd Street Grounds were the Milwaukee Brewers of the Western League, which opened the park in 1895 after leaving Athletic Park, the eventual Borchert Field. The Western League became the American League in 1900, but was still officially a minor league. In 1901 the American League became a major league, retaining Milwaukee as one of its charter members.

---
Polo Grounds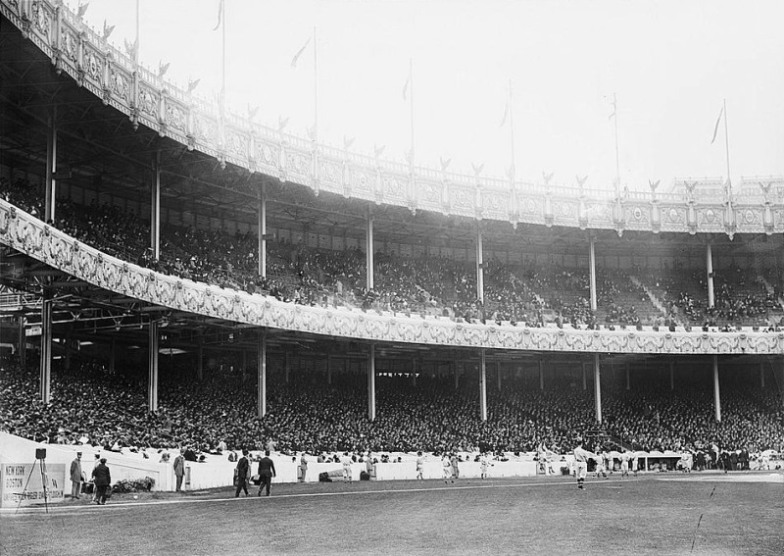 The Polo Grounds was the name of three stadiums in Upper Manhattan, New York City, used mainly for professional baseball and American football from 1880 until 1963.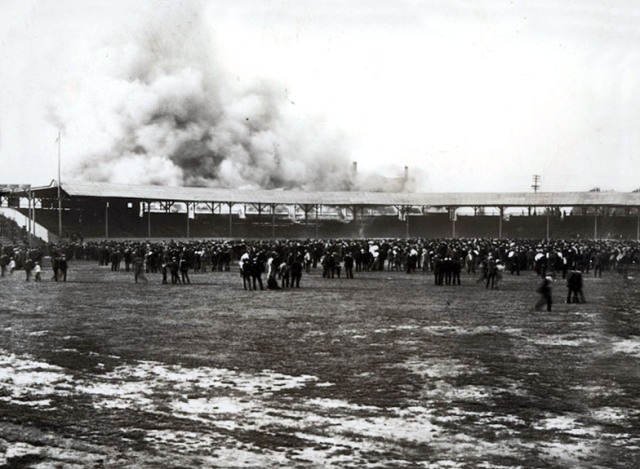 The stadium was known for being state of the art when it first opened. The all wooden facility featured an amusement park, a race track, a water flume, and an artificial lake (which was used for ice skating in the winter) *wiki. The ballpark known as New Sportsman's Park would also carry the names League Park and Cardinal Field… but the name "Robison Field" would always be known throughout history. The all wooden ballpark would be plagued by fires throughout its existence.

---
HUNTINGTON AVENUE GROUNDS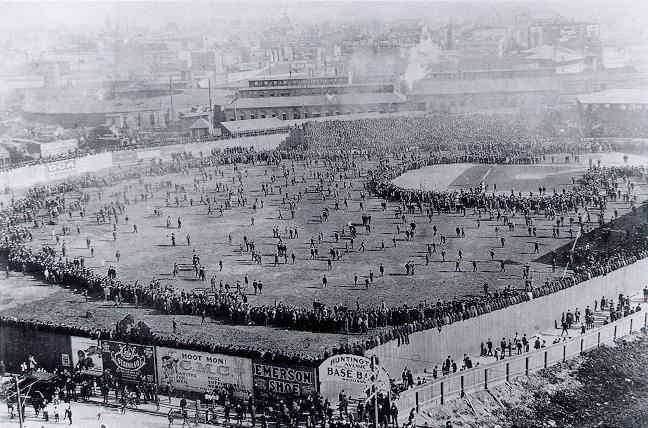 Huntington Avenue American League Base Ball Grounds is the full name of the baseball stadium that formerly stood in Boston, Massachusetts, and was the first home field for the Boston Red Sox (known informally as the 'Boston Americans' until 1908) from 1901–1911. The stadium, built for $35,000, was located across the New York, New Haven and Hartford Railroad tracks from the South End Grounds, home of the Boston Braves.

This work is licensed under a
Creative Commons Attribution 3.0 Unported License
.
© Copyright 2015/2016  aplussportsandmore-fanshop-baseballfield.com (A+ Sports & More, LLC) All Rights Reserved