---
WrigleyField1, Los Angeles
Hey! I Was #1



---
WrigleyField1
Came Before Chicago's Park.


---
I have titled this article WrigleyField1 to make the distinction between Chicago's stadium and the one built in Los Angeles. 
In an earlier article we visited the iconic history of Wrigley Field Chicago and the Chicago Cubs. Owned by chewing gum magnate William Wrigley Jr., we sometimes lose sight of the fact that he also owned the original Los Angeles Angels who played in the Pacific Coast League (PCL) on California's west coast.
WrigleyField1 was built as a home for the Angels in 1925 and was the first ball park to officially carry the name, Wrigley Field. William Wrigley purchased the Angels in 1921 as a farm team for the Chicago Cubs.
Many still feel that baseball on the west coast actually started when Walter O'Malley(Owner Brooklyn Dodgers)  and Horace Stoneham (Owner, NY Giants) moved their two teams to California in 1957. The reality is that baseball fever was alive and thriving in California as early as 1903.
---
In 1903 Major league baseball consisted of 16 teams, 8 form the National League and 8 from the American league.  All of the teams were located within 10 cities from the Northeast and Midwest sections of the United States.
National League; 
Pittsburgh Pirates-Pennsylvania
NY Giants- New York
Chicago Cubs- Illinois
Cincinnati Reds- Ohio
Brooklyn Superbas-(Dodgers)- New York
Philadelphia Phillies- Pennsylvania
Brooklyn Beaneaters-New York
St. Louis Cardinals- Missouri
American League;
Boston Americans- Massachusetts
Philadelphia Athletics- Pennsylvania
Cleveland Naps- Ohio
New York Highlanders- New York
Detroit Tigers- Michigan
St. Louis Browns- Missouri
Washington Senators- DC
Chicago White Stockings- Illinois 
Without the luxury of air travel the logistics of scheduling games for seasonal play made travel distance a critical factor in baseball's team locations. Major league baseball did not extend west of St. Louis until 1957.
When William Wrigley Jr. purchased the Los Angeles Angels in 1921 there were no plans for major league baseball on the west coast but Wrigley knew that California was fertile baseball county.
---
Wrigley Field1, The 50,000 foot View;


---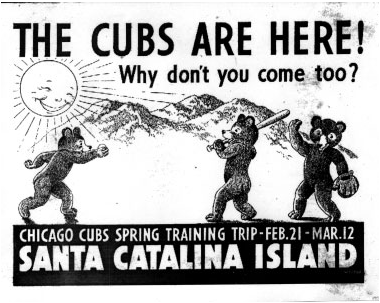 ---
Wrigley Field 1 (Los Angeles) overflow crowd at afternoon game.
William Wrigley Jr. was an enormously successful business man and processed the rare ability to see business opportunities from a 50,000 foot view. He instinctively knew that baseball had grown out of all previously imagined boundaries and that the west coast was already demanding professional baseball.
After a series of unsuccessful negotiations with the City of Los Angeles to upgrade Washington Park, the existing home of the Angels, Wrigley was unfazed and called upon his existing investment as owner of Santa Catalina Island Company.
Wrigley's 50,000ft view gave him the unique insight to invest in the development of Catalina Island and build himself a baseball Jewel Box as a anchor destination to entertain the droves of baseball hungry fans.
Image; www.sportshollywood.com-Wrigley Field LA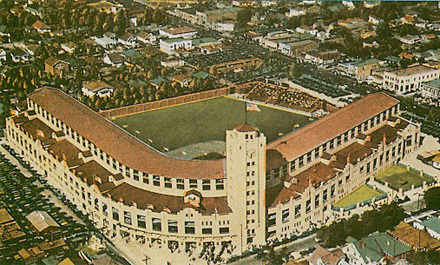 Image; http://www.ballparks.com/baseball/american/wrigla.htm
WrigleyField1 was designed by the same architect that designed Wrigley's Chicago park (Zachary Taylor Davis) and it was built as a intentional replica. At a cost of over 1.5 millions this west coast jewel was much more than a replica.
The entrance featured a 187 foot  Clock tower that could be seen from the playing field. Unlike Chicago the park was designed with, what could be called, a California flavor. It carried a Spanish-style exterior (White Facade w/ Red Roof) distinguished it from its Chicago twin.
When opened, The Sporting News described the stadium as "the finest baseball edifice in the United States".
---
The PCL Played Real Baseball;


---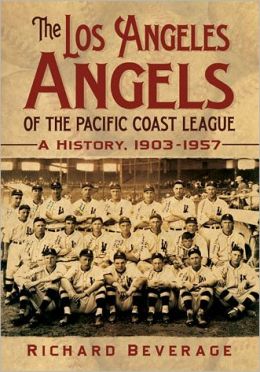 The Pacific Coast League was the west coast version of major league baseball from 1903 until 1957. The quality of play in the PCL rivaled that of major league.  
The PCL featured 6, high quality teams as competitors. The Hollywood Stars, Los Angeles Angels, Mission Reds (San Francisco Mission District), Oakland Oaks, Phoenix Giants, Portland Beavers, Sacramento Solons, Salt Lake Bees, San Diego Padres, San Francisco Seals, Seattle Rainiers, Spokane Indians, Vancouver Canadians and the Vernon Tigers.
The most fierce team rivalry in the PCL took place between the Los Angeles Angels and Hollywood All Stars.  Wrigley Field Los Angeles played host to many of those contests and fan attendance soared.
With the parks close proximity to Hollywood, WrigleyField1 quickly became the favorite hang-out for film industry executives and motion picture celebrities.
WrigleyField1 along with the Pacific Coast League effectively provided the West Coast with Major League quality baseball for over 40 years. They will forever hold a significant place in the annals of Baseball Field History.
Memorable Events;


·        Rivals, Los Angeles Angels and the Hollywood Stars shared Wrigley Field Los Angeles as home field from 1926 to 1935.
·        WrigleyField1 added lights and night games were played as early as 1931, almost 20 years before its Chicago counterpart. It was, by every measure, a Major League Stadium.
·        First home run ever hit out of WrigleyField1 Los Angeles was during the inaugural game, September 29th 1925. Arnold Statz drove one over the left center fence onto Thirty-ninth Street
·        Hollywood used WrigleyField1 Los Angeles as a backdrop to movie hit like; "The Pride of the Yankees", It Happens Every Spring", "Damn Yankees", "Babe Comes Home", a silent movie starring Babe Ruth, "Home Run Derby" series in 1960 and The Twilight Zone "The Mighty Casey" just to name a few.
·        Home of one of the World's Greatest Fans, "Angle Annie" (Roberta King) "The Voice of Wrigley Field". This is a must read article from "The Bilko Athletic Club".
·        Babe Ruth brings Barnstorming team (Full of handpicked Major League Players) in 1931 and put on a one-man home-run exhibition. Red Grange and the Green Bay Packers brings Football's rendition of Barnstorming in 1933. Historic Prize fights with Joe Louis and
Sugar Ray Robinson (Not fighting each other) were also featured at Wrigley Field Los Angeles.
·         In 1957 Walter O'Malley purchased both the Los Angeles Angels and Wrigley Field Los Angeles from the Wrigley family to make way for the incoming Brooklyn Dodgers.
·        Unlike any ball park or stadium built during that time WrigleyField1 Los Angles was built with No commercial advertisement adorning its outfield walls. One of the features that made William Wrigley one of the most revered baseball owners in history.
---
Facts & Figures;


---
Location;
·        Los Angeles, California
Opened;
·        1925
Closed;
·        1965
Surface;
·        Grass
Capacity;
·        22,000 (1925)
·        20,457 (1961)
Field Dimensions;
·        Left Field-340 feet (104 m)
·        Left Center Field-345 feet (105 m)
·        Center Field-415 feet (126 m)
·        Right Center Field-345 feet (105 m)
·        Right Field-339 feet (103 m)
Occupants;
·        Los Angeles Angels (PCL) (1925-1957)
·        Hollywood Stars (PCL) (1926-1935, 1938)
·        Los Angeles Angels (MLB) (1961)