---
"Braves Field"
The Worlds Greatest Baseball Park
Where Bigger Was Not Better
---
All of this work is licensed under a
Creative Commons Attribution 4.0 International License
.
Braves Field. Comm Ave is visible in the lower right cor.The right field pavilion is now Nickerson Field seating- Image- courtesy of the Boston Braves Historical Association
Braves Field, home of the Boston Braves was built August 18, 1915 by James Gaffney.  As baseball entered the 1900s it was clear that the game was now Big Business and team owners were in heated competition for quality players and glorious Stadiums to showcase their teams.  
James Gaffney had a vision of the future of baseball and it centered on the excitement of the inside-the-park home run.  He was so convinced of that vision that he had this new field incorporate ridiculously deep outfield dimensions. The left field foul pole measured over 402ft, Center field 530ft+ and right field estimated at nearly 395ft, making it virtually impossible to hit one of those "Dead Ball Era" baseballs out of this new park.
---
Braves Field Dominions. 
---
Field Dimensions 1915. Image; "Baseball Field Way" www.conniemackstadium.com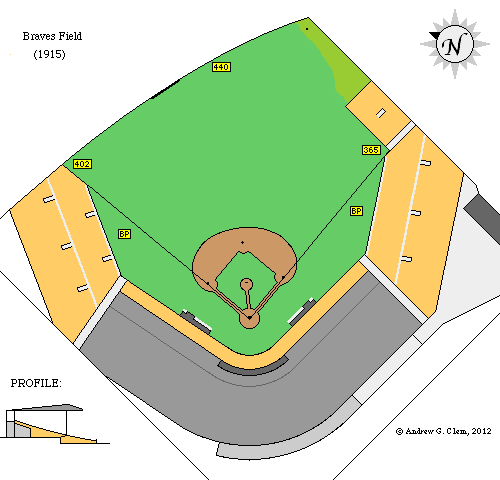 Braves Field was to be James Gaffney's crowning achievement in baseball field design. It was the last of the first wave of (Jewel-Box) Concrete and Steel Stadiums and it was bigger than all the parks before it.
It was a massive stadium built on the site of the old Allston Golf Course. Unlike stadiums before it, Braves Stadium suffered none of the property restraints that plagued field configurations of parks built within city confines.  This spacious stadium had a seating capacity of just over 40,000 and when built was the largest in baseball.
---
But The Fan's Didn't come
---
Image: Braves Field Main Gate-Ball Park Prints.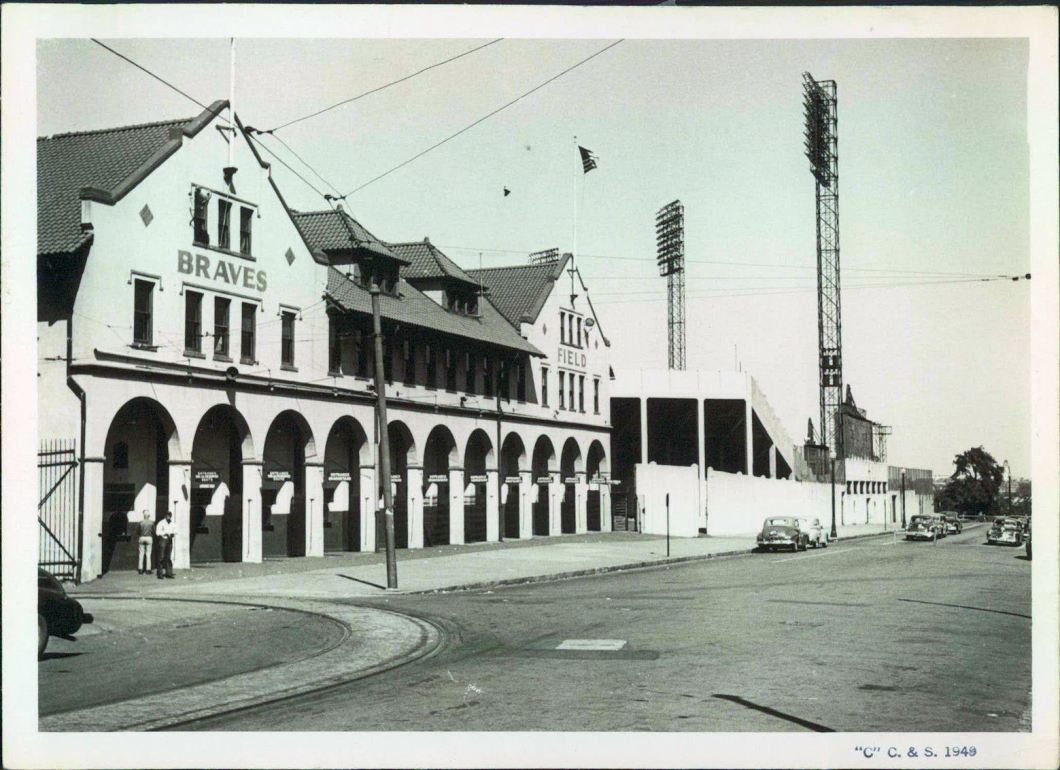 Braves Field was a baseball park in the Northeastern United States, located in Boston, Massachusetts. Today the site is home to Nickerson Field on the campus Boston University
Billed as "The World's Greatest Ballpark" this venue was large and luxurious, but lacked all of the intimacy found in stadiums like Fenway Park and Ebbets Field. Braves Field was a Multi-use Stadium used for baseball and would suffer from the reality that Bigger is not always better. Braves field would immediately struggle for attendance and would never achieve the fan success that neighboring Fenway Park experienced.

James Gaffney was a business man and politician with no real baseball passion. His view of how the game of baseball should be played was not shared by many. The Home Run and the ability to reach out and touch the field is what was driving fans to the parks so Gaffney's vision would soon crumble under fan pressure.
In 1916 with Gaffney, growing increasingly uncomfortable with the business climate, he sold the Braves to a Boston syndicate for a price of $500,000. Under new ownership the Braves would finish with a winning season with an 83-63 record. They would enjoy three straight winning season yet they still languished at the bottom of the league in attendance.
---
Image; "Baseball Field Way" www.conniemackstadium.com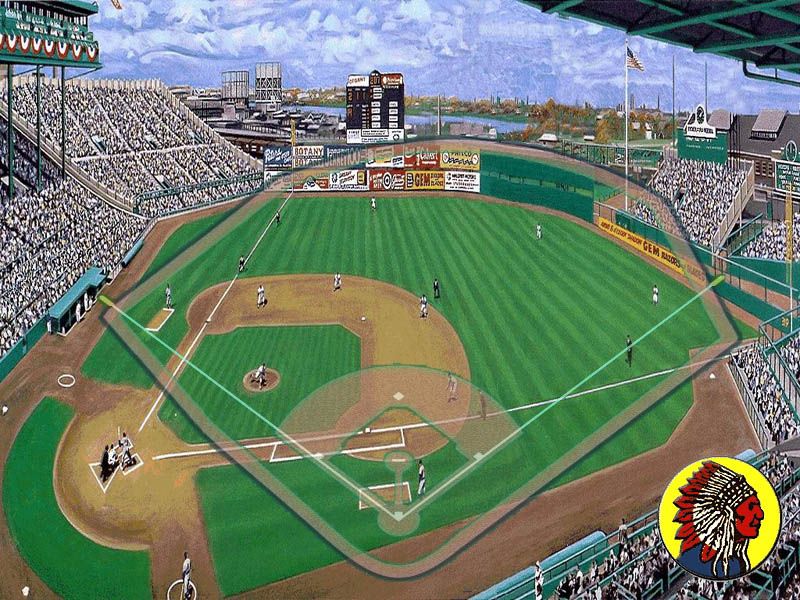 Braves Field Dimensions
The outfield dimensions of the ballpark would be tinkered with and adjusted in, what appeared to be, an almost hap-hazard attempts to bring the Home-Run back and the fans to their seats. It was not until the introduction of the, tighter wound, livelier ball that Braves Field would see baseballs clearing its fences.
In 1928 they even tried rotating the diamond clockwise in an attempt to increase home run production but that resulted in a very short right field pole. Too many fly balls were leaving the park in right field and not enough of them were Brave hitters so it was quickly changed back the following year.
From the late 1920 through the 1940 the outfield dimensions would be changed almost annually. It would not be until the Brave's 1947 World Series season that the field would see a season attendance number that exceeded 1 million.
By 1952 the Braves were only able to muster a mere 281,278 fans for the season and ownership was looking feverishly for a better market in which to play. In March of 1953 owner, Lou Perini, announced plans to move the Braves to Milwaukee and Braves Field would be left without a major league team.
After the Braves left Boston, the field was soon sold to Boston University and is now known as Nickerson Field. Parts of Braves Field were preserved and remain as part of Nickerson Field. A plaque commemorating this historic Field is located just behind where home plate was originally located.
Although Brave Field did not live up to the dream that Gaffney had envisioned for baseball, it made up for in its historic innovations.  James Gaffney was an extremely well connected business man and had a very keen sense for the logistics needed to get the fans to and from his stadium.
---
Public Transportation
---
Boston MTA Center-Entrance Car 6129 at Braves Field in the early 1950s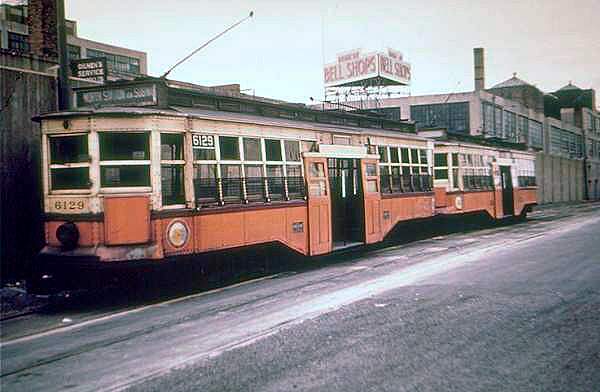 Notice the extra wide center doors.
Gaffney was such a powerful business negotiator that he was able to convince the Boston Elevated Railway System to construct a departure station inside the ballpark itself. As an additional innovation the departure station was fed by a new trolley car called the "Crowd Eater" which opened in the center of the car and would vastly reduce the time it would take to move Braves Fans quicker and safer to and from the park. Braves fans would quickly adopt it as their principal transportation to all Braves games.

Braves Field was never able to garner the fan support enjoyed by their American Association rival Red Sox's. Baseball has always been an intimate affair between the fans and the players. James Gaffney's vision of baseball came a midst a perfect storm of changes that made success hard to achieve.
Braves Stadium was a glorious park but lacked the essential element of intimacy. The fans never gained the feel that they were part of the game and attendance suffered as a result. Bigger is not always better especially when it comes to Baseball and our glorious baseball fields.
---
Facts and Figures;
Braves Field;
Former Names      National League Park/Bee Hive (1936-1941)
Built;                            March 20, 1915
Opened;                      August 18, 1915
Location;                   Boston, Massachusetts
Closed;                        September 21, 1952
Owner;                        Boston Braves/Bees
Operated;                   Boston Braves/Bees
Surface;                      Grass
Architect;                  Osborn Engineer
Capacity;                    40,000+
---
Dimensions - History
Left field: 402 (1915), 375 (1921), 404 (1922), 403 (1926), 320 (April 21, 1928), 353.5 (July 24, 1928), 340 (1930), 353.67 (1931), 359 (1933), 353.67 (1934), 368 (1936), 350 (1940), 337 (1941), 334 (1942), 340 (1943), 337 (1944)
Left-center: 402.5 ft. (1915), 396 (1916), 402.42 (1921), 404 (1922), 402.5 (1926), 330 (April 21, 1928), 359 (July 24, 1928), 365 (1942), 355 ft. (1943)
Center field: 440 ft. (1915), 387 (April 21, 1928), 417 (July 24, 1928), 387.17 (1929), 394.5 (1930), 387.25 (1931), 417 (1933), 426 (1936), 407 (1937), 408 (1939), 385 (1940), 401 (1941), 375 (1942), 370 (1943), 390 (1944), 380 (1945), 370 (1946)
Center field at the flag pole: 520
Deepest center field corner, just to the right of straightaway center: 550 (1915), 401 (1942), 390 (1943)
Right-center: 402 (1915), 362 (1942), 355 (1943)
Right field: 402 (1915), 375 (1916), 365 (1921), 364 (1928), 297.75 (1929), 297.92 (1931), 364 (1933), 297 (1936), 376 (1937), 378 (1938), 350 (1940), 340 (April 1943), 320 (July 1943), 340 (April 1944), 320 (May 1944), 340 (April 1946), 320 (May 1946), 318 (1947), 320 (1948), 319 (1948)
Brave's Field Fun Facts
The outfield grass was transplanted from the old South End Grounds (III)

The view over the left field fence revealed the Charles River, sometime filled with shells of the Harvard racing crews and a railway yard that gave the park its distinctive smell.

Visitors to the Field arrived on the Commonwealth Avenue Trolley, which would swing inside the park's main facade, delivering them to the front gate.

On July 28, 1935 the Boston Braves played a game against the Brooklyn Dodgers and the total attendance only reached 95 total.

The originally field sported a ground-level scoreboard in left field.

It was eventually moved to the rear of right field in 1928.

In 1948 the scoreboard came back to left field but was moved up to a height of 68ft.

Fir trees were planted beyond the center field fence to mask the smoke from the nearby railway station.
---
---