---
"Comiskey Park"
Chicago's Piercing Declaration That We Are A
Major City. 

---
Comiskey Park, Chicago's First Baseball Palace
Image info; Thomas Woodman Architects-Legendary Ball Parks. This image is copywriter protected.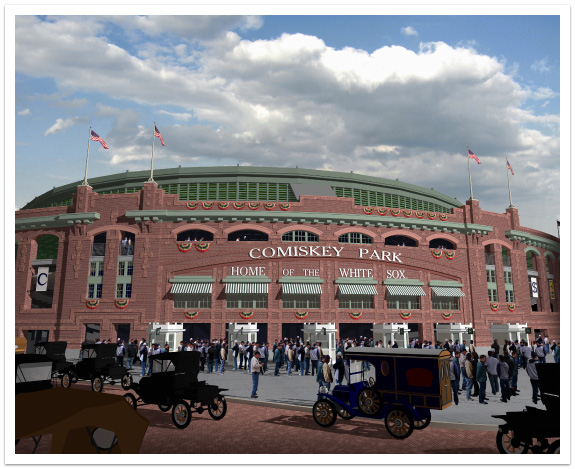 Comiskey Park was Chicago's first, all concrete and steel, modern jewel box baseball stadium. Purchased and financed by Charles A. Crowsley in 1909 the park was originally referred to as White Sox Park but would be later named Comisiky Park.
This new stadium was the third in a series of the new high tech stadium designs that emerged after the building of Shibe Park in 1901. These parks were the forerunner of the Modern Baseball parks and at the time, were bold experiments for the business of baseball.
Charlie's new Park was Chicago's piercing declaration that it was truly a major city. Like Philadelphia, Boston and New York, Chicago proudly displayed its major league baseball prowess with two professional baseball teams. 
---
White Sox's & Cubs
---
This new stadium was home to the Chicago White Sox's of the American League and later Wrigley Field as the home of the Chicago Cubs of the National League.
Baseball had become so entrenched into American society that it was used to define a cities success.
The very presence of a major league baseball team screamed credibility but two teams was a piercing deceleration that Chicago was a major city and baseball helped to enhances it's population growth .
---
---
Image;1910: Opening Day (Chicago Tribune archive photo / June 13, 2012) www.redeyechicago.com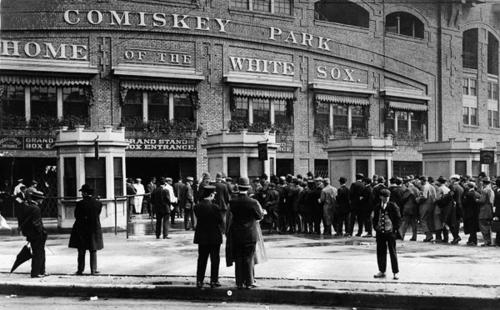 1910: Opening Day
Charles Comiskey understood the incredible impact that a professional baseball team and a glorious baseball facility could have on his bottom line so he didn't hesitate in investing $100,000 for the land on which to build his stadium. He was very meticulous in his business approach and spent considerable time doing his home work.
Charlie hired Zachary Taylor Davis to design his new stadium because of his previous work on the Kankakee County courthouse. Davis along with White Sox pitcher Ed Walsh would tour baseball parks around the county before coming up with the final design.
Zachary would later go on to design Chicago second major league stadium, Wrigley Field, to house the Chicago Cubs. Comiskey Park was described as a Palace and when built it was dubbed the "Baseball Capital of the World".
---
Park Features
---
Image; Comiskey Park Circa 1910-1925 (Library of Congress Prints and Photographs Division Washington, D.C.)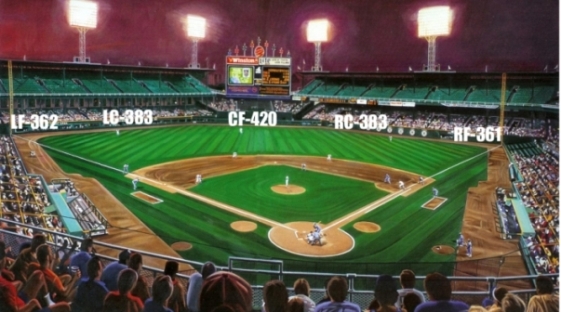 Image; aplussportsandmore-Carl Bennett
The design of this new stadium was ideally suited for dead-ball-era play. Its spacious outfield (originally 362 feet down the lines and 420 feet to center) was influenced by pitcher Ed Walsh, who toured with Davis prior to design.
Architect Zachary Taylor Davis's idea to build a column-free grandstand with an ornate Neo Classical facade and external landscaping was scrapped because of cost, but the park's brick exterior was nevertheless graced by arched openings and Prairie School details.
The ballpark constructed at 35th and Shields Avenue was one of the most impressive of its period. It offerd perfect symmetry (unusual at the time) and a generous size. Its original 29,000 seating capacity set a baseball record at the time and it eventually reached a capacity of 52,000 after numerous expansions throughout the late 1910s and mid-1920s.
Built on the South side of the city (35th & Shields Avenue), Comiskey Stadium would cater to Chicago's working class.  This new park was a shared piece of Americana for a diverse South Side population.
During the 1910s South Chicago included older immigrant groups from Ireland and Germany, as well as newer arrivals from Eastern and Southern Europe.  Comiskey Park helped White Sox fans address ethnic rivalries (Sometime painfully) through a shared appreciation of players based on how they played the game of baseball.
However, with all of Chicago's diversity, African Americans remained social outsiders.
The game of baseball along with Comiskey Park helped to bridge that racial separation. Baseball, (The Game) by its very nature, is blind and does not see in colors.
It is that very reality that makes baseball an absolutely perfect game (at least in my personal view).
---
Comiskey Park opened it's doors

---
The NNL and ECL played from 1924 through 1927. Champions from the second NNL and the NAL competed from 1942 through 1948. Also in 1933, the Black teams began all-star game competition. The game was known as the East-West game and was played each summer at Chicago's Comiskey Park. This game was considered more important than the World Series and annually attracted between 20,000 and 50,000 fans. Image; www.larrylester42.com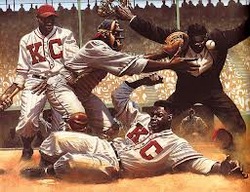 This Nelson painting is called "Safe at Home." It's part of a collection of the Negro Leagues Baseball Museum in Kansas City, Mo.
Built in close proximity to the racially segregated section of the South Side, It would open its glorious facility to Negro League baseball which provided the talent pool that spawned legends like Rube Walker, Satchel Page and Jackie Robinson.
While Comiskey Park was not able to cure America's social ills, it did provide opportunities for social interactions through baseball that may have never happened were this park not built. Its impact to the community was so profound that, like "Lay's Potato Chips", you couldn't have just one.
In 1991, almost 80 years after the building of the original Comiskey Park, Chicago would approve the building of a second Comiskey Park located across the street from its first location.
That park would later be renamed U.S. Cellular Field.
---
Image; Comiskey Park Old & New, ballparksofbaseball.com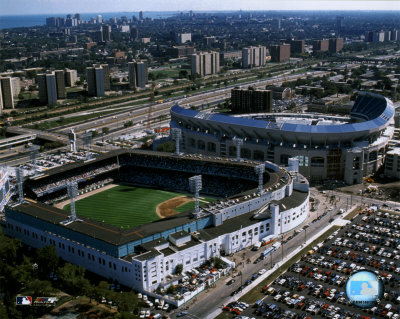 ---
Field Stats; 
Foul lines: 363 ft (1910), 362 (1911), 365 (1927), 362 (1930), 342 (1934), 353 (1935), 340 (1936), 352 (1937), 332 (April 22, 1949), 352 (May 5, 1949), 335 (1969), 352 (marked, 1971), 349 (actual, 1971), 341 (1983), 347 (1986)
Power alleys: 382 (1910), 375 (1927), 370 (1934), 382 (1942), 362 (April 22, 1949), 375 (May 5, 1949), 382 (1954), 365 (1955), 375 (1956), 365 (1959), 375 (1968), 370 (1969), 375 (marked, 1971), 382 (actual, 1971), 374 (1983), 382 (1986)
Center field: 420 (1910), 450 (1926), 455 (1927), 450 (1930), 436 (1934), 422 (1936), 440 (1937), 420 (April 22, 1949), 415 (May 5, 1949), 410 (1951), 415 (1952), 400 (1969), 440 (1976), 445 (1977), 402 (marked, 1981), 409 (actual, 1981), 401 (1983), 409 (1986)
Backstop: 98 (1910), 71 (1933), 85 (1934), 86 (1955)
Foul territory: Large, (110.000 sq. ft.)
Who Played Here: Chicago White Sox
First Opened: July 1, 1910
First night game: August 14, 1939
Last game: September 30, 1990
Demolished: 1991
Surface: Grass (1910); infield artificial (1969); infield grass (1976).
Capacity: 32,000 (1910); 52,000 (1927).
Architect: Zachary Taylor Davis; Osborn Engineering (1910)
Construction: George W. Jackson
Owner: Charles A. Crosley  Chicago White Sox (1909-
Cost: $750,000 
[Home]
› [More>> at Baseball Field History].
---