---
Famous Black Baseball Players
---
Who Were They?


First 5 Black Baseball players
to Make the Hall of Fame
---
By far the most recognizable famous Black Baseball Players is Jackie Robinson. I know, that is pretty much a no-brainer, but nobody really remembers much after the first.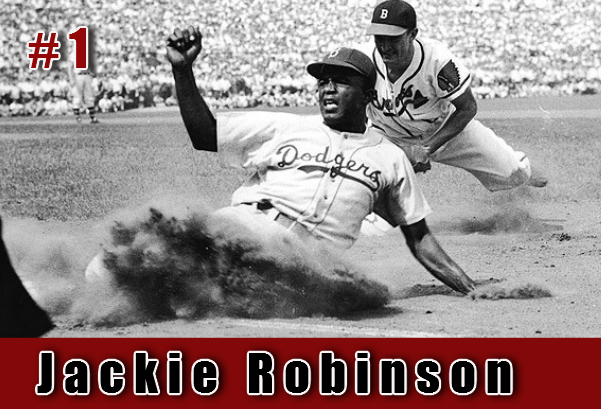 ---
From; BenjGC @ SBNation;  "The integration of baseball led to the inclusion of some of the game's greatest all-time contributors, who thrilled us with power, speed, daring, and flair. We're now 66+ years deep into a baseball landscape that includes black players, and it can clearly be said that the game is better for their participation".

---
I love that quote because baseball, the game I love, can only expose its true beauty when the best of the best come to play.
My mission here is pretty simple, show you a list of the first 5 black halls of fame inductees' but I want to do a little more than that.
This article not simply a fancy research paper on famous black baseball players but rather a platform for me to share, my personal, commentary on the insidious Cancer that infected the Game of Baseball.
But more about that later, let's take a look at that list of 5 famous black baseball players.

---
Perhaps no one is more remembered for being second than Larry Doby. He was the second African-American to play Major League Baseball in the modern era after Jackie Robinson. He was the second African-American manager of a major league club after Frank Robinson.
He may have been second in those two regards, but Larry Doby was so much more. He is one of the best Famous Black Baseball Players.



---

Willard was #4  and made his MLB debut for the St. Louis Browns on July 19, 1947 ' two days after Hank Thompson ' and made history as the first African-American player in the American League ever to hit a home run. Sadly, Brown couldn't take the racial abuse he was forced to endure, and he only played 21 MLB games. After leaving the Browns, he enjoyed a prolific season in Puerto Rico, and in 2006 he achieved a place in the National Baseball Hall of Fame and the Caribbean Baseball Hall of Fame.



Hank Thompson #3, was a left-handed hitter that hit to all fields and showed off occasional power. He played third base and is known for his exceptionally strong throwing arm.

He played in the Negro Leagues with the Kansas City Monarchs before making his MLB debut playing for the St. Louis Browns on July 17, 1947. He was the team's first African-American player, but unfortunately, he was released after just over a month. During his time with the Browns, Thompson made MLB history with fellow African-American teammate Willard Brown. On July 20, 1947, the pair became the first two African-American players to appear in the same starting lineup.



---

Monty Irvin was #5 and played for the New York Giants from 1949 to 1955 and was on the Chicago Cubs team for one season in 1956. He returned to MiLB for one more year before retiring. Although he no longer played baseball professionally, Irvin's career in sports was far from over. He had a job as a scout for the New York Mets between 1967 and 1968 and then went on to work as a public relations expert for Bowie Kuhn, the fifth Commissioner of MLB, from 1968 to 1984.

---
Famous black Baseball players
and the cancer of baseball
---
When you look at the full list of famous black baseball player you will find there is currently 23 (As of 6/16) black ball players holding a spot in Cooperstown. The total number of inductees into the baseball hall of fame is over 310. The numbers, for my purposes, are not significance but rather they reveal cancer that affects the growth of the game.
Baseball history in America goes as far back as 1755 and young black boys and girls along with young white boys and girls were playing baseball from the games very beginning.
The game was paradise for the athletics who loved to play this new game and it grew like a Weed.

It did not care if you were black or white, young or old, strong or weak, big or small, the game of Baseball made room for anyone who wanted to play.
By 1886 we discovered that money could be made by charging a fee to watch athletics play the game. Baseball became a Business and along with it came Greed, a cancer that stained the game and stunts the growth of Baseball, even today.
For just over 70 years blacks were banned from playing professional baseball and the game itself suffered greatly from it. It restricted some of the best athletics in the world from playing Baseball and the game has been recovering every since.
Famous black baseball player only exists because they continued to play the game in spite of the restrictions.
But the true damage was suffered by the athletics themselves.
The very nature of an Athletic is to compete and they are at their very best when they compete against the very best. That opportunity to play against the Best of the Best, for both black and white, did not become reality until 1946.

---
what would Baseball be if?
---
Imagine, if you will, what Baseball would be like today if, in the beginning, the Best of the Best were able to test their skill against each other. Baseball would be played as it was originally intended and the gifted athletics would take our game to levels never before seen in the sport.
How about a headline reading "Cy Young vs Satchell Page in game 1 of  1903 World Series" or "Babe Ruth faces off against Josh Gibson at the Polo Ground opening day".
The possible match-ups would have been nothing short of spectacular and the game would be richer for it. Somehow we have totally missed what the game of baseball has been telling us,"The differences don't matter".

---
In Conclusion;
---
Jorge Ortiz wrote in "Baseball's culture clash: vast majority of brawls involve differing ethnicities":
Baseball teams regularly bring together people from diverse backgrounds striving for a common cause, which in the best of circumstances results in the quintessential melting pot. But when the dynamic changes and the bonding element is replaced by the fire of competition, a different kind of brew arises and sometimes boils over.
What boils over, however, is not Baseball it is Us. Baseball gives us a blueprint, on how to embrace those differences but it is up to Us to recognize what it teaches us. New York Style Baseball is played across several continents and by people of all faiths and religions. but the game, itself, is owned by nobody.
Famous Black Baseball Players helped to raise the quality of play on the field and expose the beauty that lies within.
The future of our game rests firmly in our hands. How we handle racism and greed will determine our future.