---
Forbes Field,
"Dreyfuss's Folly"


---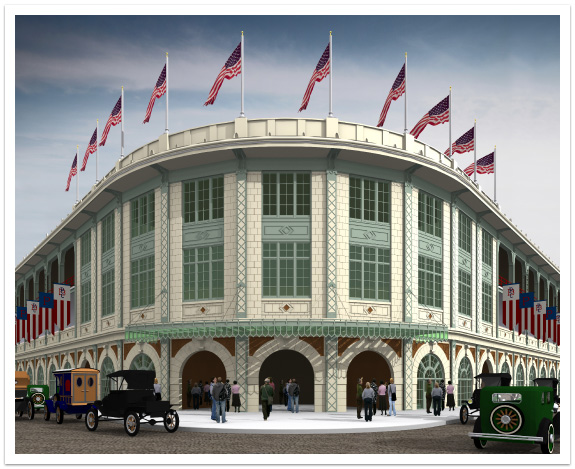 Image;Thomas Woodman-legendaryballparks.com "Forbes Field"
Forbes Field;
In 1909 Barney Dreyfuss, then owner of the National League's Pittsburg Pirates, decided to build himself a new baseball stadium. That stadium would be Forbes Field and it helped start a new age in baseball stadium construction.
Historically speaking, Forbes Field is credited with being the first baseball stadium built using Concrete and Steel as its primary building components.
However, Al Raach and John Rogers might argue that statement since they made use of this new building materials with the 1902 rebuild of sections of their fire damaged Baker Bowl.
Did you know that two stadiums were built in 1909, Forbes Field and Shibe Park and both were designed and built using this new technology?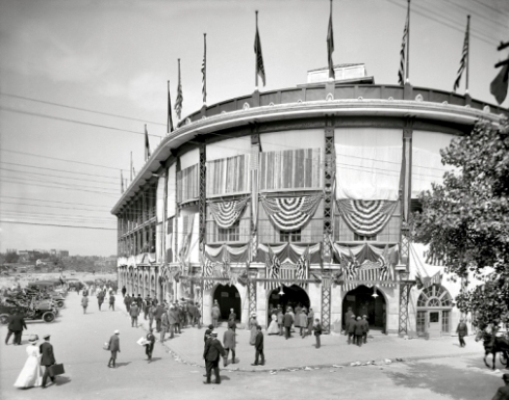 Image;-Library of Congress Prints & Photograph Division.
This stadium opened June 30, 1909 and Shibe Park opened August 12, 1909, making Barney's stadium the first of its kind by a month and a half.

Do you think there was a little competition going on between owners at that time?
Barney Dreyfuss's love for baseball developed after his doctors insistence on adding exercise to what had become a sedentary life style. Reportedly, it was that meeting that started his journey into the world of baseball.
Barney organized and recruited a baseball team from workers at his family owned distillery to provide himself an exercise outlet.
Dreyfuss went on to embrace the game of baseball so such that in 1899 he, with the help of a couple of noteworthy friends, Andrew Carnegie and Harry Clay Pulliam, acquired the Pittsburgh Pirate professional baseball team.
---
"Dreyfuss's Folly"


---

Image; Wikipedia Creative Commons-Forbes field 1909
Someone once said that it is not What you know but Who you know and that euphemism rang true with Barney Dreyfuss. His friendships with Andrew Carnegie and Harry Clay Pulliam provided him with valuable insights that would embolden him as a baseball owner.

When Dreyfuss unveiled his plans for his new park, critics labeled it as was too big and too expensive. It had the largest footprint of any baseball stadium built at the time with a seating capacity of over 20,000. The print media said he would never fill a park of this size and coined it as "Dreyfuss's Folly".
Opening day, June 30, 1909, was a perfect day for baseball. The doors opened at 1:30 and the fans were welcomed to an architectural work of art. The stadium filled to over 35,000, baseball crazed, fans who marveled at their new, three tiered beauty.
The stadium was named after John Forbes, the British general who captured Fort Duquesne during the French and Indian War. The architectural ambiance of this new stadium was stunning but the fans came to see great baseball being played and great baseball is what they were treated to.
The Pirates won 110 games that first year which was second-best in National League history. They won three World Series titles in Forbes Field. They won it all in 1909, that inaugural season, then again in 1925. Finally once again in 1960."Dreyfuss's Folly", not so much of a Folly.'
---
Fan Allegiance 


---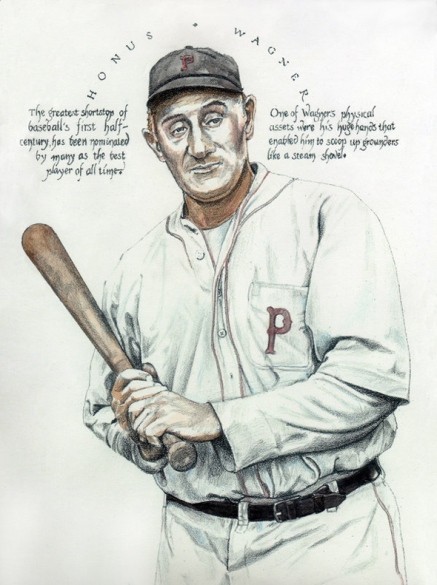 Image;-Honus Wagner by phan-tom-Copywrite protected
Pirate fans loved the Bucs as much as they loved their new stadium.
1903 to 1912 was the Honus Wagner era and he led the Pirates fans to their first World Series title in 1908. Although they stumbled a bit in 1917 with an anemic record of 51-103 the Pirates would, again electrify, fans with another World Series title in 1925.
With the addition of future greats like Max Cary, Pie Traynor and Kiki Cuyler, Fans were graced with another World Series appearance in 1927 but was swept by the talent rich, New York Yankees.
In 1946 the ownership changed when Barney Dreyfuss sold the team and the park to a syndicate headed by Frank E. McKinney, John W. Galbreath and entertainer Bing Crosby.
McKinney also held co-ownership interests in the Louisville Colonels, Indianapolis Indians along with the newly purchased Pirates baseball team.
---
Fans Outside Forbes Field Gate-1925 World Series-Image; from Pittsburgh Press.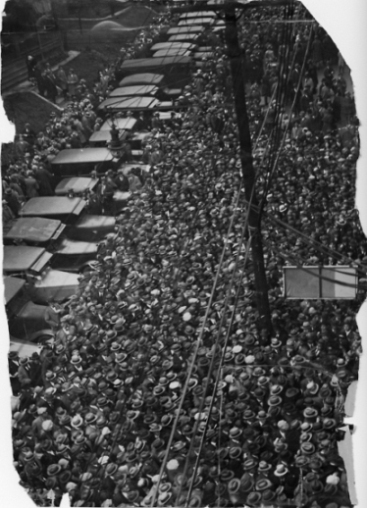 John Galbreath would secured the position of majority owner and he would run the team for just over 35 years. 
Galbreath, like previous owner, Barney Dreyfuss, was not afraid to invest in talent. His crowning achievement during his tenure was the hiring Branch Rickey as general manager in 1950.
Ricky's influence brought with it an impressive group of young talent. Pitchers Vern Law, Bob Friend and Elroy Face along with shortstop Dick Groat, second baseman Bill Mazeroski and my personal hero, Roberto Clemente.
Every year, on its anniversary, Loyal and dedicated Pittsburgh Pirates fans, still make an annual pilgrimage to the site where home plate, the base of the center field flag pole and the ivy covered outfield brick fence that are the last vestiges of this great ball park.
They will sit and listen to Rosie Roswell's broadcast of game seven of the 1960 World Series, cheering loudly as Mazeroski's launches his walk-off home-run in the 9th inning.
---
They Come Back Every Year.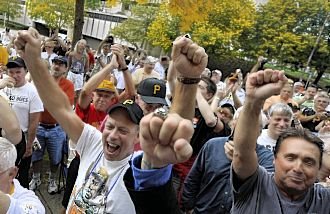 ---
Forbes Field Greatest Moments;


---
The memories etched in the minds of Forbes Fields fans are to extensive to cover in a single article. These are but a few I offer to those of you who still remember Forbes Field;
·        Forbes Field was the site of the first radio, play-by-play, broadcast in Major league Baseball.
·        The first elevator installed in Forbes Fields to give fan access to their third tier "Crow's Nest", the first in major league stadium design.
·        Owner Barney Dreyfuss and Cumberland Posey developed a friendship and Forbes Field opened its doors to Negro League Baseball when the Homestead Grays played their home games there from 1939-1948. Forbes Field also hosted some of the greatest Barnstorming teams ever assembled. Fans saw greats like Babe Ruth, Satchel Page and Josh Gibson.
---
Field Stats;
---
Location;
·        230 South Bouquet St. (adjacent to Schenley Park)
Built;
·        March-June 1909
Opened;
·        June 30, 1909
Closed;
·        June 28, 1970
Demolished;
·        1971
Surface;
·        Grass
Scoreboard;
·        Hand-Operated
Construction Cost;
·        Estimated US$ 1-2 million ($26 million-$52 million in 2014 dollars)
Architect;
·        Charles Leavitt, Jr.
Structural Engineer;
·        Nicola Building Company
Capacity;
·        23,000 (1909)
·        41,000 (1925)
·        35,000 (1970)
Field Dimensions;
·        Left Field-360 ft. (110m)
·        Deepest Corner-462 ft (141m)
·        Center Field-442 ft (135m)
·        Right Field-376 ft (115m)
Tenants;
·        Pittsburgh Pirates (1909-1970)
·        Pittsburgh Pirates/Steelers (1933-1963)
·        Philadelphia-Pittsburgh "Steagles" (1943)
·        "Card-Pitt" (1944)
·        University of Pittsburgh (1909-1924)
·        Homestead Grays (1922-1939)
·        Pittsburgh Americans (1936-1937)
·        Pittsburgh Phantoms (1967)

When I started this article I found myself a bit confused. What was the Park's actual name?,  Was it Washington Park and if so Why? Who was in charge of naming these new structures? Why did they all have more than one name at the same time?
Well as it works out the blame lies with the Baseball Owners. Almost every new stadium built carried the phrase "Also Know As" and that is how the Fans liked it. It was actually the Fans that determined what name the stadium would carry. 
Brooklyn had it's Park but so did Chicago, Philadelphia, Ohio and Missouri. Each parks name was fueled by the neighborhood in which belonged. When you look at it there is no difference even in today's Baseball
The growth and popularity of almost every region of America was dependant on  the presence of a Professional Baseball Stadium.
The Stadium was one of those Historic Cathedrals but it would die before it's time.
It was clear that the ultimate value of a Baseball Stadium comes from the performances on the field. Those performances are made memorable because of the Athletics who played the game. Player acquisition became an art form and, often times that quest would, challenged the legal system.
Player stealing and Team Hopping became a way of life and ultimately led to the adoption of ,what is now, the Collective Bargaining System.
It was the Home runs that brought the fans to the parks and Eastern Park could not deliver. To add insult to injury the park was built in what was called the Dead Ball Era which exasperated the parks woe's
Home> (Baseball Field History, The Evolution of Our Field of Dreams)
---
Eastern Park & The Home Run
---
This new stadium was a Glorious Cathedral that was eagerly anticipated. This original, all wood, structures was built on a large parcel that allowed the field dimensions to be very large. The finished Stadium, like most of the time, was too big and didn't give the fans what they were looking for, the Home Run.
A Home run to left had to travel over 300 feet and clear a wall 25ft high. It took a shots of over 380 feet in the allies and over 410 feet to dead center.
It was the Home runs that brought the fans to the parks and Eastern Park could not deliver. To add insult to injury the park was built in what was called the Dead Ball Era which exasperated the parks woe's
Follow Us Also @
---
This work is licensed under a
Creative Commons Attribution 3.0 Unported License
.
© Copyright 2015/2016  aplussportsandmore-fanshop-baseballfield.com (A+ Sports & More, LLC) All Rights Reserved