---
Fenway Park, A Stadium That The Fans Say Is Too Important to Die.




---
All of this work is licensed under a
Creative Commons Attribution 4.0 International License
.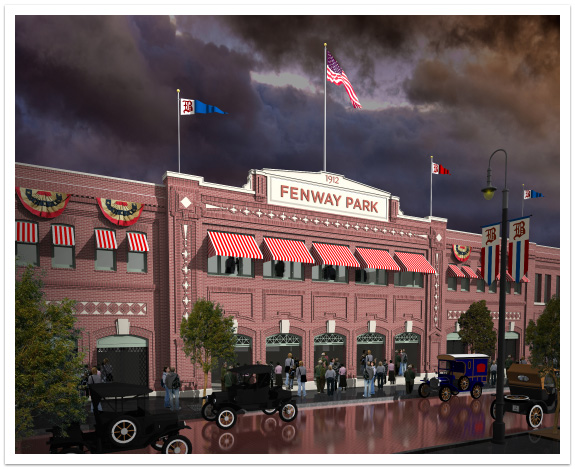 Fenway Park is, arguably, the most heralded baseball stadium built in the United States. It has the distinction of being the oldest Major League Baseball Stadiums still in use today (2015). When constructed in 1912 it was one in a series of baseball stadiums constructed out of predominately Concrete and Steel.
---
The Jewel Box Era


---
As baseball entered the early 1900's the old wooden stadiums were starting to decay and, in many cases, burned to the ground. A more permanent, fire restraint, venue was needed to house the ever growing hordes of new baseball fans. Baseball owners, eager to cash in on this growth, responded with an avalanche new ballpark construction. These new parks would affectionately be labeled "Jewel Box Stadiums" and along with Fenway these new concrete and steel structures would reshape the future for all baseball parks built afterwards.
Starting in 1895 and continuing through 1923, thirteen (13) new concrete and steel baseball stadiums were built here in the United States.
·         Forbes Field and Shibe Park in Pennsylvania -1909
·         Comiskey Park in Chicago  and League Park in Ohio -1910
·         Polo Grounds IV in Manhattan, New York City and Griffith Stadium in                          Washington, D.C -1911
·         Tiger Stadium in Detroit, Michigan, Crosley  Field in Cincinnati, Ohio, and                 Fenway Park -1912
·          Ebbets Field in Brooklyn, New York City -1913
·         Wrigley Field in Chicago, Illinois-1914
·          Braves Field in Boston Massachusetts -1915  
·         Yankee Stadium in the Bronx, New York in-1923
---
Boston Red Sox, a Gift From Dad


---
New England was gaining prominence in the baseball world having the Boston Red Stockings and Boston Braves in town. Great rivalries were developing between the New England clubs and the teams from New York, Pennsylvanian, Ohio and Illinois.
Fenway Park was built in 1912 in a dense neighborhood at Fenway-Kenmore in Boston Massachusetts. In 1904 General John H Taylor, owner of the now Boston Globe, purchased the Boston Red Stockings from Henry J. Killilea, for his son, John I. Taylor. John would implement changes that would become historical, starting with the renaming the team, The Boston Red Sox.
Young John started immediately looking to build a new stadium as the home for the Red Sox's. This new park was named after its location in The Fins, a prominent Fenway neighborhood.   As it happens, the Taylor family owned the Fenway Reality Company which helped John in the purchase of the land bordered by Brookline Avenue, Jersey Street, Van Ness Street and Lansdowne Street (basically  buying from himself)  to build his new stadium.
---
opening day delayed


---
The genesis of Fenway Park was as a replacement for the aging Huntington Avenue Baseball Grounds.  The opening of the New Park was delayed two day because of rain and the first official professional baseball game was played on April 20, 1912. Ironically the opening day was overshadowed by the sinking of the Titanic which took all of the front page news coverage in Boston. 
---
titanic takes front page


---
From that first official major league game at this new stadium, no one could ever have imagined the enormous history that would emerge from this glorious new baseball venue.
Fenway Park would go through many changes and alterations, some were designed and some out of necessity.  The most notable major modification came after a fire destroyed the wooden bleachers along the left field foul line in 1926. Reconstruction of that section of the park would not take place until after Tom Yawkey bought the Red Sox's in 1933.
---
Fenway Park Still Lives Today.


---
Fenway Park was a Baseball stadium for the Fans and it stayed true to that notion throughout its history.  Like a rare bottle of wine it would slowly age and marinate to become, what is now, a national treasure?  A ballpark like no other, Fenway has earned a spot in the National Registry of Historic Places. This is an honor never before bestowed on any other baseball stadium in United States history.
---
21

Hall of Fame Greats Who Called Fenway Home.


---
As the Oldest Major League Ball Park still in use it has played host to some of the greatest ball players in history.
As the only home of the Boston Red Sox there has been over 21 hall of fame greats that, at some piont, called Fenway Park home.
And there are more waiting to join.
As a tribute to these Fenway greats I offer you this video tribute for your enjoyment.
---
---
Park Facts;
Architect;                                1912                              James McLaughlin

Civil Engineers:                     1912                              Osbom Engineering 
                                                       1912                              Osbom Engineering
                                  Construction              1912                             Charles Logue Building Company
                                                            1934                              Coleman Brothers, Inc.
Cost;                          1912                              $65,000.00
                Owner;                         1912                              Boston Red Sox, Inc      
   Field Surface;               1912                                           Blue Grass
Dimensions;
Constructed: 1912
Rebuilt: 1934
First Game: April 20, 1912 - Red Sox 7, Highlanders 6 (11 inn)
Seating Capacity (Night): 37,493
Seating Capacity (Day): 37,065
EMC Club/Pavilion: 4,997
Box Seats: 13,650
Grandstand: 11,927
Bleachers: 6,448
Green Monster: 269
Right Field Roof Deck: 202
OUTFIELD DIMENSIONS
Left Field: 310 feet
Left-Center Field: 379 feet
Center Field: 390 feet
Deep Center Field: 420 feet
Deep Right Field: 380 feet
Right Field : 302 feet
HEIGHT OF OUTFIELD WALLS
Left Field: 37 feet
Center Field: 17 feet
Bullpens: 5 feet
Right Field: 3-5 feet
LENGTH OF LEFT FIELD WALL
231 feet (228 feet in fair territory)
---
---
[Home]
› [More>> at Baseball Field History].
What Is Your Favorite, Modern Baseball Stadium?
I am a Rays Fan and love the atmosphere of Tropicana Field. What's your favorite baseball stadium and Why.

Share your story and win a $10.00 Gift Card for your contribution.