---
Shibe Park




The First Baseball Specific Stadium




Designed Around The Exclusive Use of Concrete and Steel. 




---
Shibe Park, built in 1909 and named after its owner, Benjamin Shibe, is often credited with being the first baseball stadium built using Concrete and Steel. That, however, is not completely accurate as actually the refurbished Baker Bowl, across town, made the first extensive use of concrete and steel in its restoration from its 1894 fire.
It was a breath taking stadium with exterior details reminiscent of the French Renaissance style.
The Philadelphia Public Ledger called it "a palace for fans, the most beautiful and capacious baseball structure in the world." Shibe Park was the ancestor of and inspiration behind every ballpark built in the 20th century.
The stadium built as the home of the Philadelphia Athletics and as a replacement for the small and aging Columbia Park (It's original wooden stadium). As the Game of Baseball entered the 1900s the Business of Baseball was exploding. The American League had gained professional status and joined the National league vying for quality teams and players.
Philadelphia had two professional teams, the Phillies from the National League and the Athletics from the American League. This made the competition for talented players extremely fierce. Players welcomed the competition between leagues as it provided them bargaining opportunities for contract negotiations'.
Philadelphia had become a major baseball city and Shibe Park along with the A's was just what the doctor ordered. To say that opening day at Shibe Park was a success would be an understatement.
---
---
Opening Day


---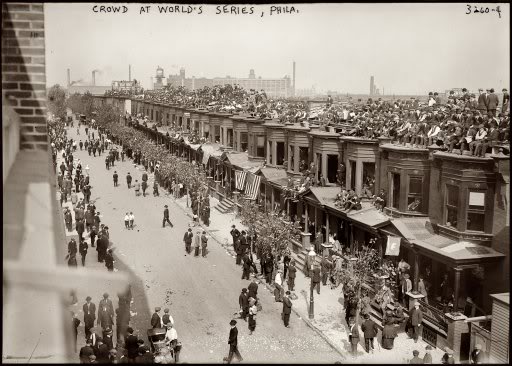 THE FIRST WORLD SERIES GAME HELD IN SHIBE PARK WAS IN 1910 – MEN, WOMEN AND CHILDREN ARE WATCHING FROM THE ROOF AND FIRST LEVEL BALCONY
Opening day at this new stadium was described as walking a line between a festival and chaos. Over 30,000 fans entered the park and over 15,000 were turned away because of lack of room. Officials tried closing the gates hours before game time but that proved to be a bad move.

Thousands of unhappy fans, bent on getting into the park, forced opened one of the gates and hundreds poured in without paying and quickly mingled into the already crowded stadium. Over 7000 standing-room only spectators saw the first game at Shibe Park, ringing the outfield up to seven deep, held back by ropes between the field seats and the field bleachers. Another 6000 looked in from various roof tops from around the block.
---
The Owners


---
Shibe Park was a beautiful park and it didn't hurt to have a great team at the same time. As a baseball only venue (In the beginning) it would average 30,000+ fans for the entirety of its existence.

The Athletics would establish themselves as the class of the American League as they compiled an impressive list of accomplishments. American League pennant six times (1902, 1905, 1910, 1911, 1913 and 1914), World Series winner (1910, 1911 and 1913), and offered the fans a 100 win season in 1910, 1911 and 1914.
Shibe Park was born out of an unlikely relationship between Ben Shibe and Connie Mack. The park, as built in 1909, carried the name of Shibe and would remain such until after the death of Ben Shibe in 1922.
The formation of this partnership marked a significant change in the course of baseball history. Like Felix and Oscar they could not have been any more different. Ben Shibe with no athletic background and aided a leg brace and Connie Mack blessed as an accomplished player and coach.
As it would turn out they both truly liked each other so the partnership turned out to be a match made in heaven. Ben had all of the contacts and financial resources while Connie carried an impeccable reputation as a player and exceptionally creative, hands on, management style.
---
The Game Changer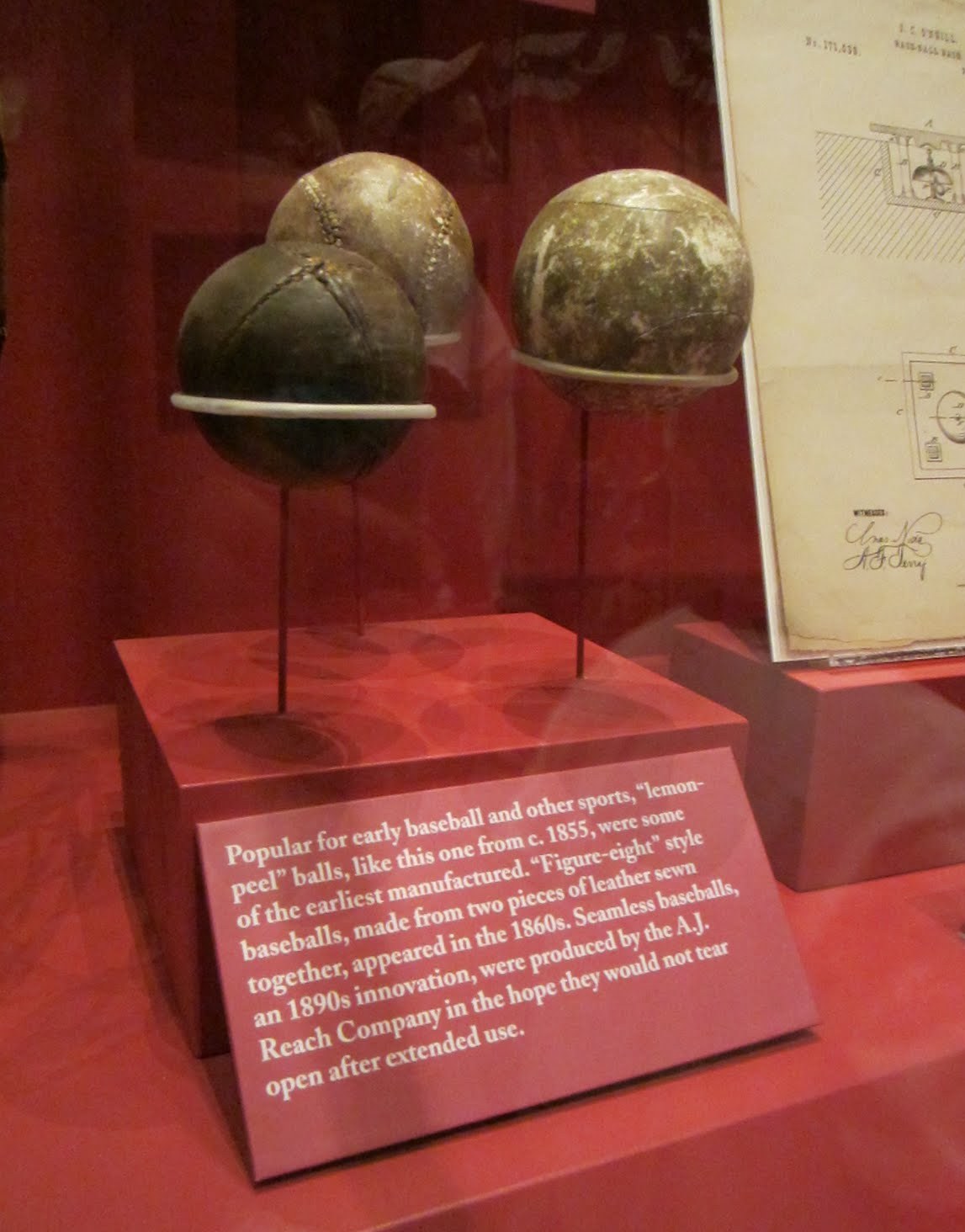 Ben Shibe had developed a long time friendship with Alfred J. Reach who owned Reach & Johnson, a baseball manufacturing company and part owner of the National Leagues Philadelphia Phillies. Reach and Shibe would form a new company, Reach & Shibe but it was later decided to name it A. J. Reach and Company.

Ben Shibe was responsible for introducing the cork center baseball along with solving the mystery of the stitching that secured the covers to the ball. That single improvement would make the balls livelier and much more durable.
It marked the end to the dead-ball-era and unleashed a flood of home runs to every owner's park.
After the death of Ben Shibe in a Honorable automobile accident Shibe Park would continue to carry his name until the surviving sons sold their shares in 1950. It continued to carry his name 1953 when it was renamed Connie Mack Stadium in honor the A's legendary coach.
---
---
[Home]
› [More>> at Baseball Field History].
Shibe Park Statics;
·        Opened                       August 12, 1909
·        Broke Ground            1908
·        Closed                         October 1, 1970
·        Surface                        Grass
·        Cost                             $300,000-$400,000 ($7.7 million in 2013 dollars)
·        Architect                      William Steele and Sons
·        Capacity                       23,000 (1909) 33,608 (1970)
·        Field Dimensions                    (1909)
·       Left Field-                                     378ft
·       Center Field Corner                    515ft
·        Right Field                                   340ft
o                   (1925)
·        Left Field                                       334ft
·        Center Field Corner                     468ft
·        Right Field                                     331ft
o                     (1950)
·        Left Field                                        334ft
·        Deep Left Center                          420ft
·        Center Field                                   447ft
·        Deep Right Center                        405ft
·        Right Field                                       329ft
o                    (1968)
·        Left Field                                          334ft
·        Deep Left Center                              387ft
·        Center Field                                      410ft
·       Deep Right Center                           390ft
·        Right Field                                        329ft
Tenants;
            Philelphia Athletics (AL)                 1909-1954
            Philadphis Phillies  (NL)                 1938-1970
            Philadephia Eagles (NFL)              1940, 1942-1957
Memorable Moments:
1943 (5 - 3, AL won) and 1952 (3 - 2, NL won) All Star Games.

1910, 1911, 1913 (A's won), 1914 (A's lost), 1929, 1930 (A's won), 1931 (A's lost), 1950 (Phillies lost) World Series.

June 3, 1932: Lou Gehrig (Yankees) hits four home runs.

September 24, 1940: Jimmie Foxx hits 500th career home run.

Ted Williams went 6 for 8 here during a double header of the last day of the 1941 season to raise his average from .39955 to .406.

July 18, 1948: Pat Seevey (White Sox) hits four home runs.

Site of many Negro League World Series Games: Games 1 and 2, 1924; Games 1 and 4, 1926; Game 5, 1942
---
What Is Your Favorite, Modern Baseball Stadium?
I am a Rays Fan and love the atmosphere of Tropicana Field. What's your favorite baseball stadium and Why.

Share your story and win a $10.00 Gift Card for your contribution.