---
Retractable-Roof-Ballparks

 not an architectural statements
but rather a huge leap in Functionality.


---
The very first of the Retractable Roof Ballparks built was the Civic Arena in Pittsburg ,Pennsylvania. Ground breaking started in 1958 but did not open until 1961.
The Civic Arena, however was never intended for baseball and I don't know of any games that were scheduled there.
The stadium was the brainchild of department store owner Edgar J. Kaufmann. The Civic Arena hosted numerous concerts, the circus, political and religious rallies, roller derbies as well as contests in hockey, basketball, fish tournament weigh-ins, pro tennis, boxing, wrestling, lacrosse, football, ice skating championships, kennel shows, and soccer. 
With that in mind I do not include it in the list of MLB Retractable Roof Ballparks.
---
mlb Retractable Roof ballparks
---
---
Retractable-Roof-Ballparks, for me, was the best thing to happen to the Baseball Field. I am not a fair weather baseball fan but the game is enjoyed best when you are not fighting the elements. 
After the transformation of the old wooden baseball stadiums to much more permanent structures, the baseball stadiums took on a life of their own.
These new stadiums were built specifically to draw fans to their seats and each one was loaded with amenities designed to wow and amaze. If you could dream it, they stuck it into one of these new retractable-roof-ball parks.
               Multi-Purpose
               Contemporary
               Retro-Classic
               Retro-Modern
The retractable-roof-ballparks were an effective means of putting a top over a growing circus like atmosphere. Advertiser loved the new parks because they offered the opportunity to actively capture thousands of potential customers in one convenient location.
In addition, these retractable-roof -ballparks provided a climate controlled environment, an attribute never before offered. It is difficult to envision the construction of any new Major League baseball stadiums that does not incorporate a retractable roof.
The first Retractable Roof Stadium built was the Civic Center in Pittsburgh, Pennsylvania 
Currently there are Six Retractable-Roof-Ballparks in Major League Baseball;
Chase Field-                Built 1998
Rogers Centre-           Built 1989
SafeCo Field-              Built 1999
Minute Maid Park-    Built 2000
Miller Park-                Built 2001
Marlins Stadium-      Built 2012
---
America's Retractable Roof ballparks


---
Rogers Centre


---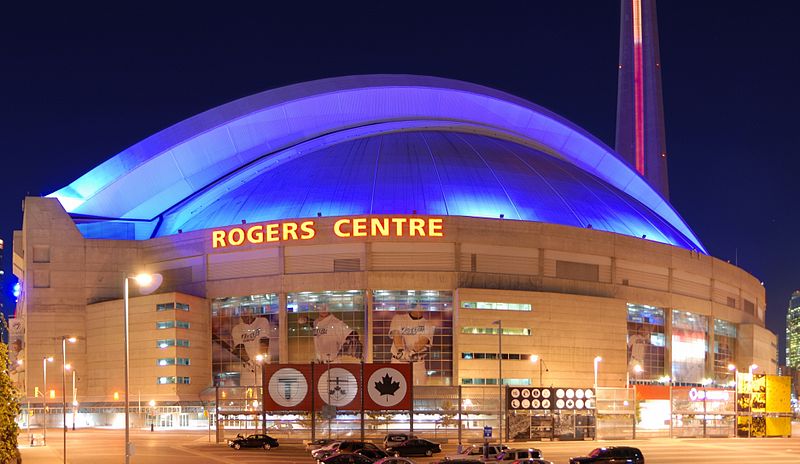 Image; Rogers Centre - Wikipedia, the free encyclopedia en.wikipedia.org
---
In June 1989, Toronto unveiled the SkyDome to much pomp and circumstance. It was the first stadium with a fully retractable roof, creating the best of both weather worlds for the CFL's Argonauts and MLB's Blue Jays.

The Rogers Centre is located in downtown Toronto, Ontario, Canada. Opened in 1989 it serves as home for the Toronto Blue Jays. Many of the Retractable-Roof-Ballparks were built as multi-purpose stadium. Rogers Centre was originally known as the SkyDome but was renamed following the purchase of the stadium by Rogers Communications.
Along with the retractable roof this venue is also noted for the 340-room, Renaissance Hotel, attached to it. There are 70 rooms which overlooked the playing field, providing quite the intimate setting to watch a baseball game.
Complete with 161 Luxury Suites, 5,700 Club Seats, and a Hard Rock Cafe gives a fan experience matched by few others.
---
---
Chase Field
Phoenix, AZ


---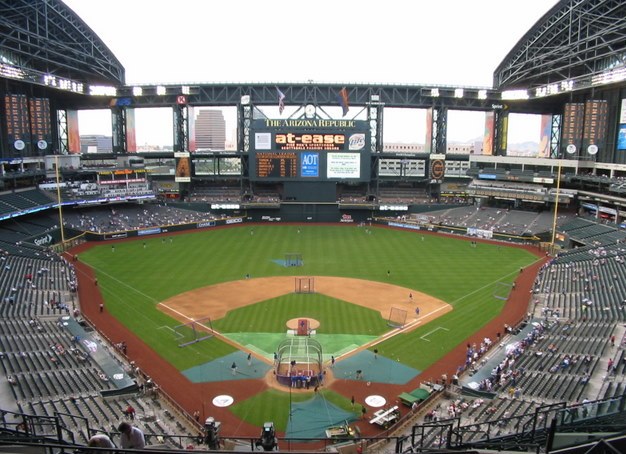 Chase Field was the second of the Retractable-Roof-Ballparks built in the United States. Chase Field is the home of the Arizona Diamondbacks and it opened in 1998. Located in the extreme heat of Phoenix, Arizona Chase is fully air conditioned. 
Fully air conditioned means that it operates even when the roof is open. Chase is the only current Retractable roof ballpark with that feature. It sports an inside swimming pool located in the outfield which can be rented by spectators.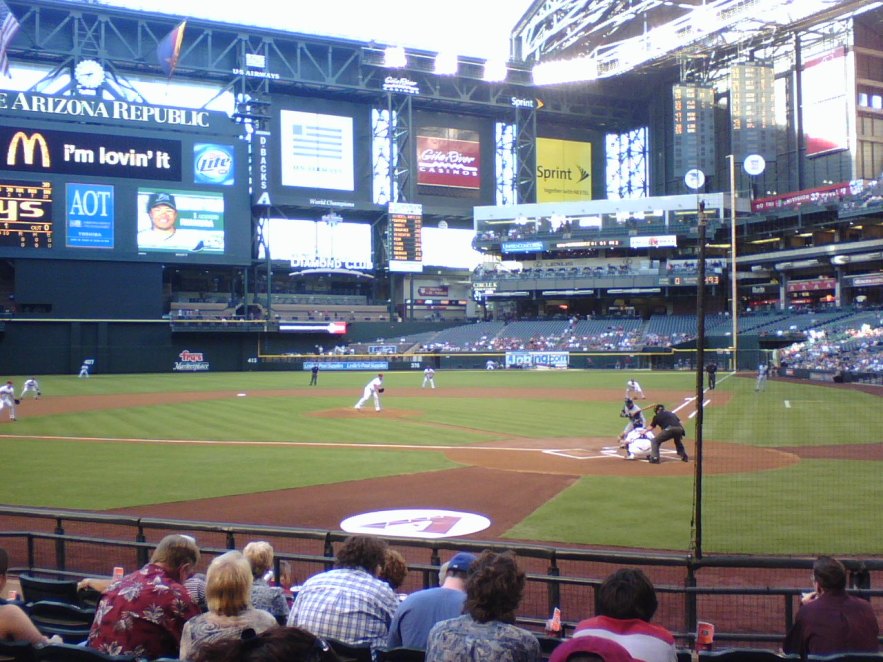 The Field itself hearkens back to days of old with the distinctive dirt strip between home plate and the pitcher's mound. Common in the early ballparks this strip is present in only one other modern baseball park (Comerica Park).
---
SafeCo Field
Seattle Washington


---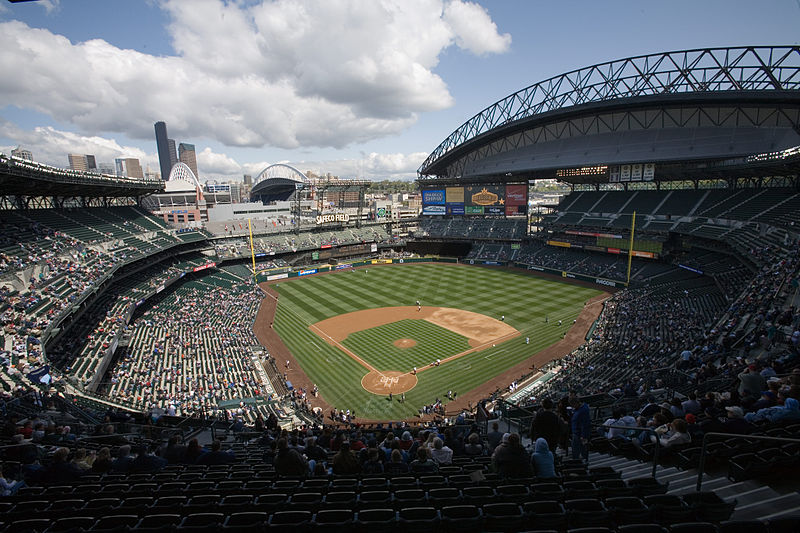 SafeCo Field is located in Seattle Washington and is home for the Seattle Mariners and it was the Third Retractable Roof Stadium built for Baseball. Built in 1999, SafeCo Field was a replacement for the aging King Dome. Named for the Seattle based owner, Safeco Insurance, they reportedly paid $40 million for the naming rights to the stadium for 20 years.
Safeco Field, like most ballparks built from the 1990s on, is a "Retro-Modern" style retractable-roof-ballpark. It incorporates many of the features of ballparks built in the 1970s. It features a brick facade, asymmetrical field dimensions, a natural grass field, spectator sight-lines suited for baseball, and surrounded by city streets and buildings.
Safeco Field's retractable roof is unique in that it serves as an "umbrella" for the stands and field rather than forming a complete climate-controlled enclosure. With Seattle being known for its healthy rain fall the umbrella approach in design was very appropriate.
---
Minute Maid Park
Houston, Texas
---

Houston Astros Opening Day 2014 - Minute Maid Park - YouTube www.youtube.com
Minute Maid Park baseball stadium, 4th on the list is located in Houston, Texas, and was Houston's first retractable-roof-Ballpark. If you have not been to Houston, Texas, it is notoriously hot and humid during the summers and can experience majestic rains during the fall.
Minute Maid Park as the predecessor to the Astrodome and it allowed fans to enjoy outdoor baseball during favorable weather conditions. Unlike the Astrodome, Minute Maid Park features a grass field as opposed to Astro Turf. Players generally disliked Astro Turf because of the beating taken by the knees, ankles and hips. The surface was much like playing on a carpet laid over concrete.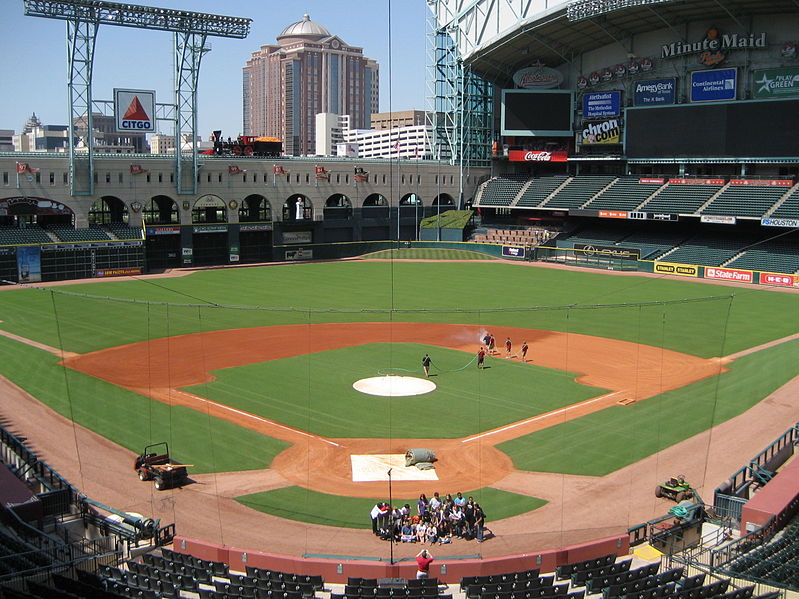 Notice the center field area of the ballpark, it takes quite the poke to hit one out there.  As you look at the field layout it clear to see that this park had baseball in mind when it was built. The configuration lends itself to fan intimacy and unobstructed views of the playing field.
---
Marlins Park
The New Wave In
Retractable-Roof-Ballparks
---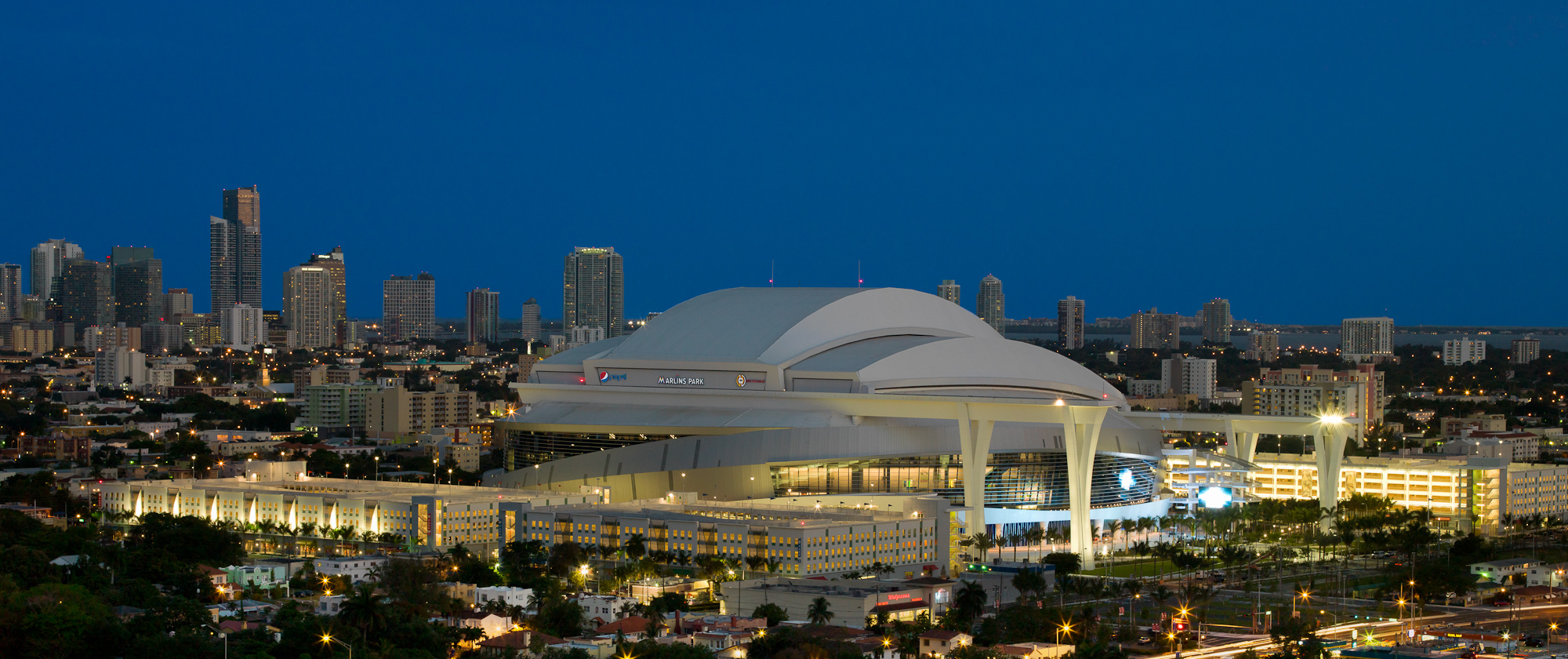 Image; https://oncloudconine.files.wordpress.com/2014/03/20120402_marlins_0017-edit.jpg
Marlins Park, currently home of the Miami Marlins Major League Stadium, can be best characterized as a "Jewel Box" on steroids. Marlins Stadium, the sixth Retractable-Roof-ballparks built, was the outgrowth of a growing competition between Major League Sports owners for high quality Branded venues.
From the inception of the Florida Marlins the team played all of its home games at Sun Life Stadium in Miami Gardens. Sun Life Stadium although originally intended as a baseball facility was actually a Multipurpose stadium tailored for Football.
The Marlins would share their home stadium with both the National Football League's Miami Dolphins and the Miami Hurricanes college football teams. Then in 1999 the original owner, Wayne Huizenga, sold the team to John W. Henry and an immediate push for a Baseball-only venue was in motion.
As the last of six retractable-roof-ballparks, Marlins Park was loaded with fan amenities that tantalized the senses while controlling inclement weather conditions.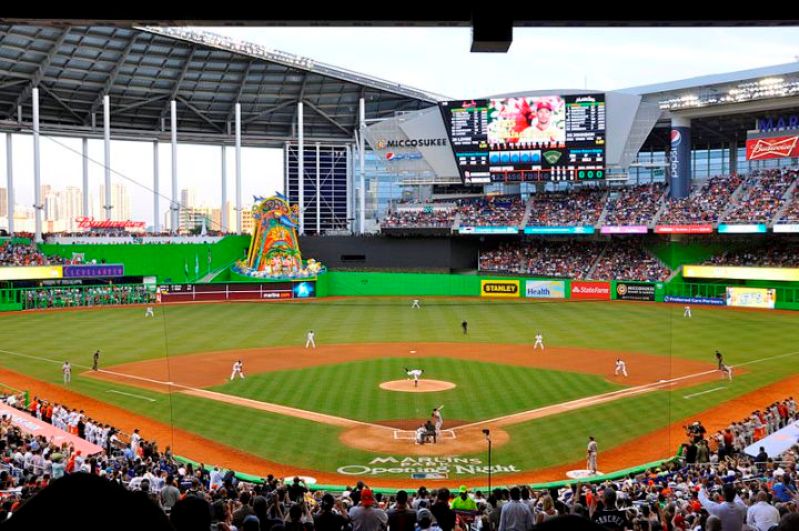 The sometimes harsh and often unpredictable, sub-tropic weather of Florida mandated a climate controlled environment. The results were the first, Purposely built, Baseball Stadium with the Fan in mind.
Baseball specific Retractable-Roof-Ballparks, like Marlins Park, are a bold experiment in preserving, what baseball fans feel is, the true essence of Baseball. Only history will tell but in the mean time all of us avid baseball fans can enjoy a truly beautiful game in some truly beautiful venues.
---
The Future of Retractable Roof Stadium

s
---
If, like me, you still long for that genuine Baseball Experience, worry not. Architects and Stadium Builders have heard our cries and there are a host of new, innovative, ballpark designs on the drawing boards.
There is a growing demand for Retractable-Roof Stadiums and designers are catering to the game of Baseball.
Marlins Stadium in Miami Florida is a prime example of what is yet to come.
But wait there is even more yet to see.
---
Mercedes-Benz Stadium
June 2017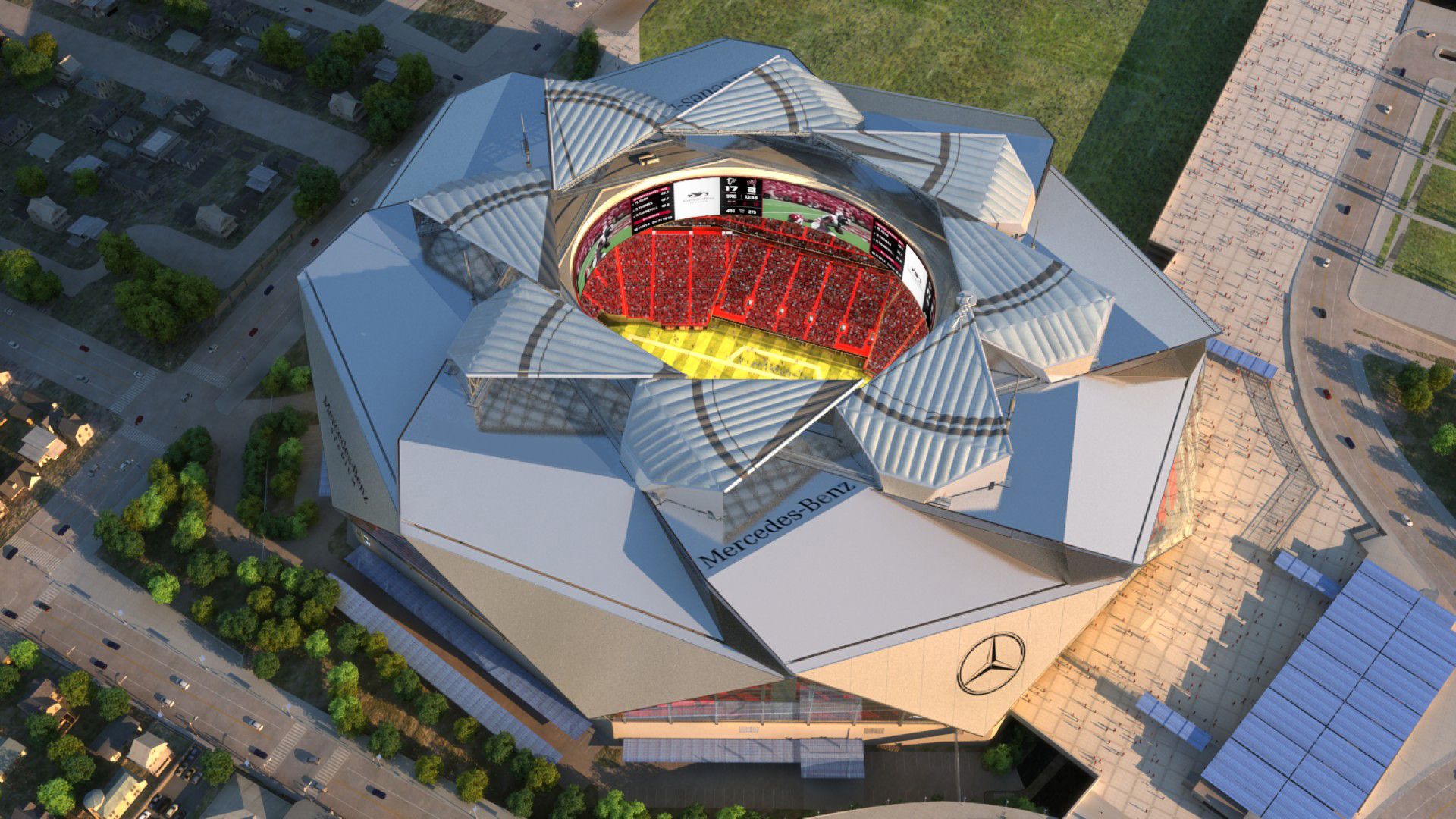 Mercedes Benz Stadium top Open
The concept is one of two visions that gave 360 Architecture the contract to design a new Atlanta Falcons stadium in downtown Atlanta. As it turned out, the final version is just an evolution of the first idea. The stadium will hold some 71,000 people (compared to 65,000 planned initially) and cost $ 1.6 billion (initially thought to be 1 billion).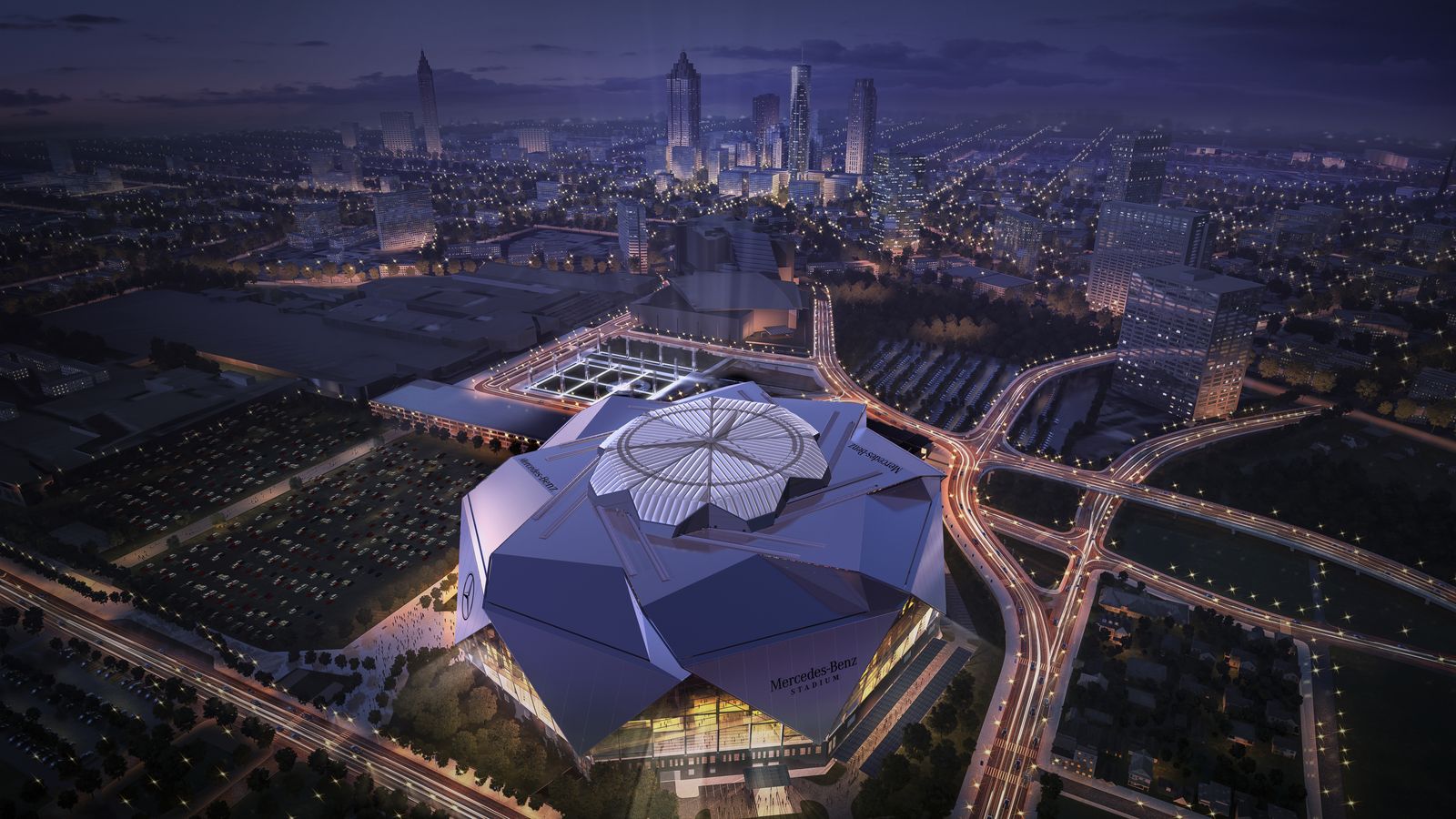 Mercedes Benz Stadium at night top closed.
Nicknamed by architects as the Pantheon, it seems to deserve the name. Connection with the Roman Pantheon is no accident here – independent petals of retractable roof structures may slide to create either a closed dome or a circular skylight above the centre of the field, just like in Rome. Of course each petal may also be located on the permanent roof to give the feeling of a regular stadium with only stands covered.
---
Artist Rendering of Roof Closed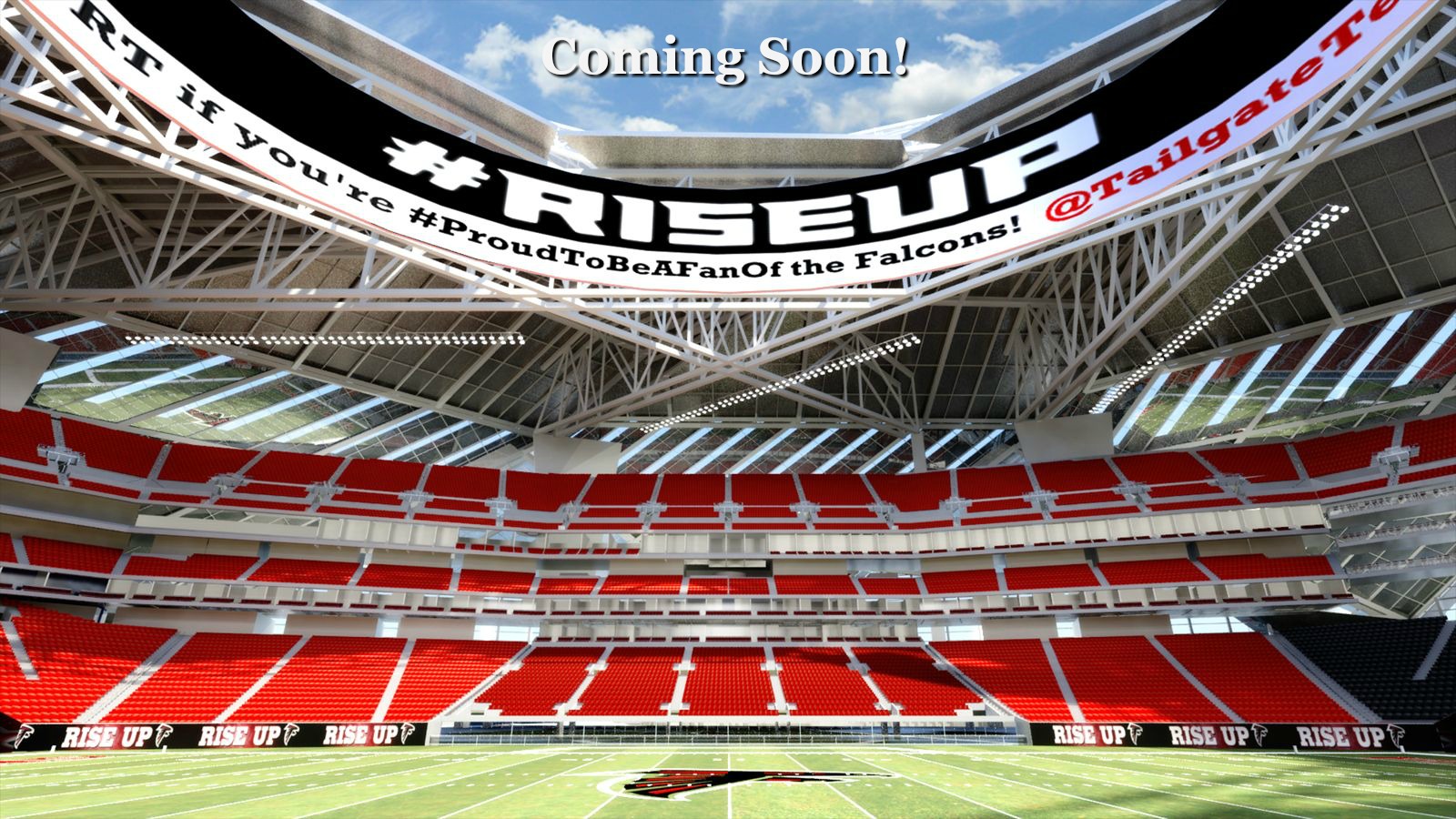 Artist rendering Atlanta falcons, Mercedes Benz New stadium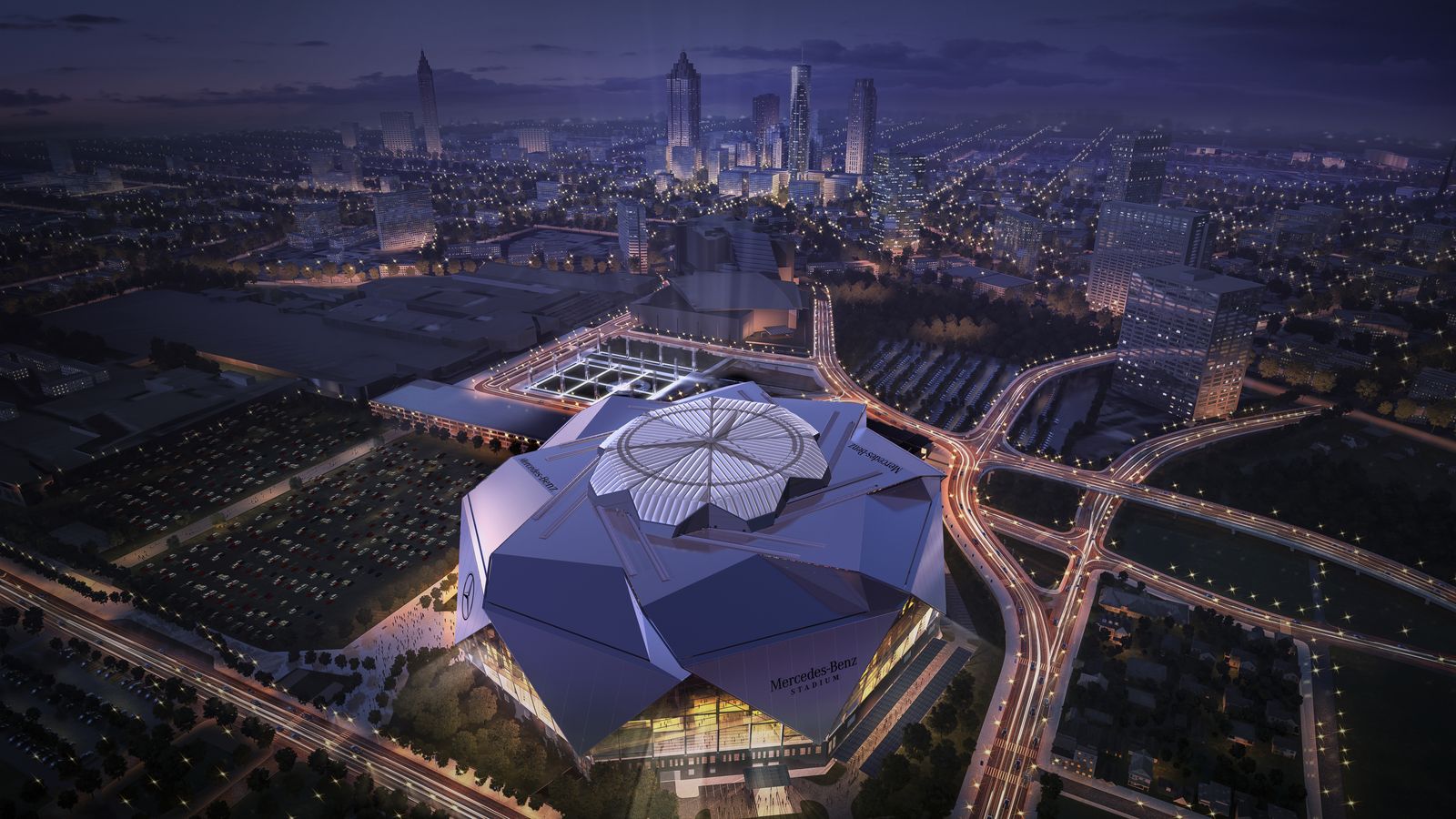 Artist Rendering of Arial View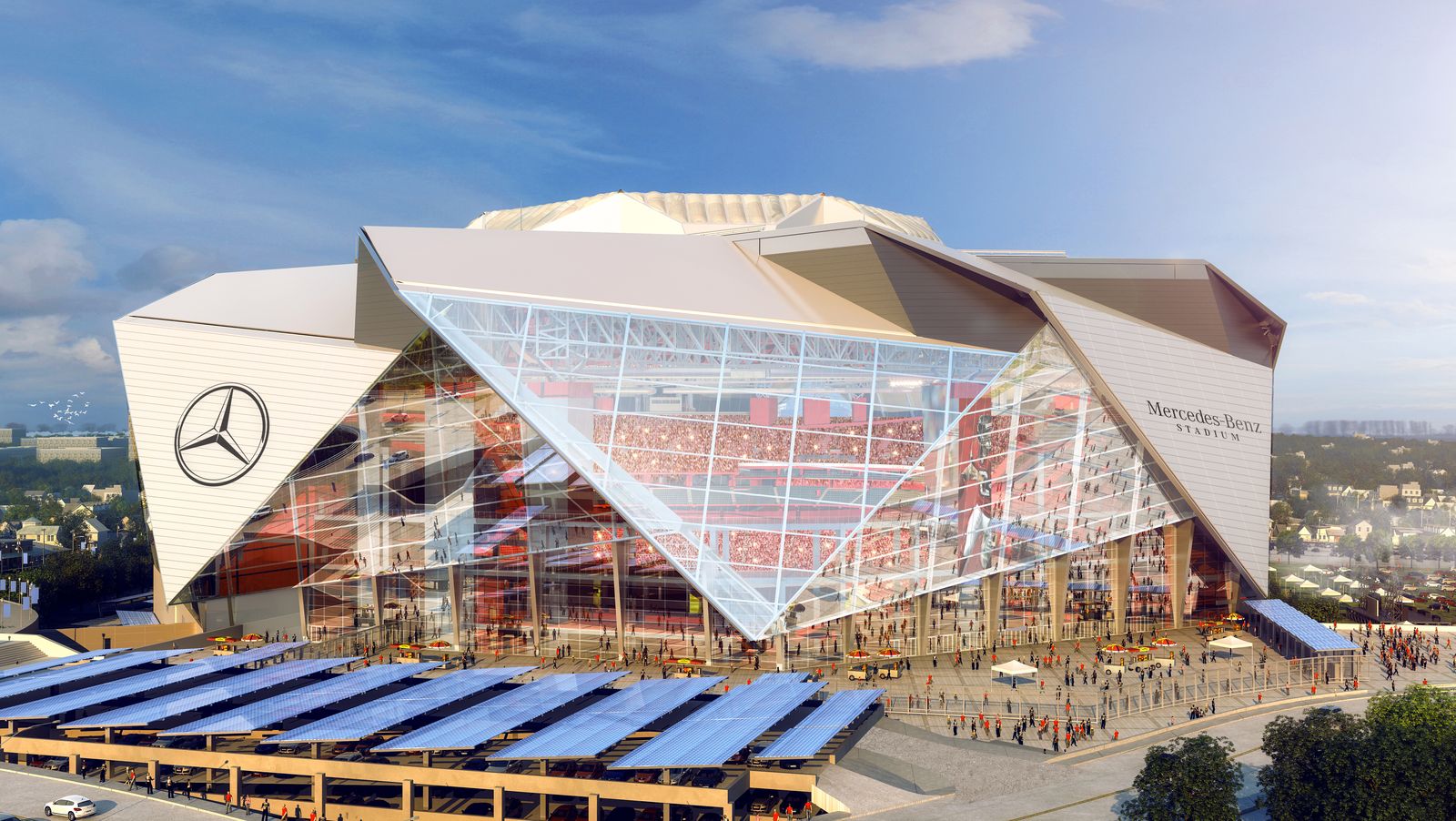 Mercedes-Benz is moving their headquarters to Georgia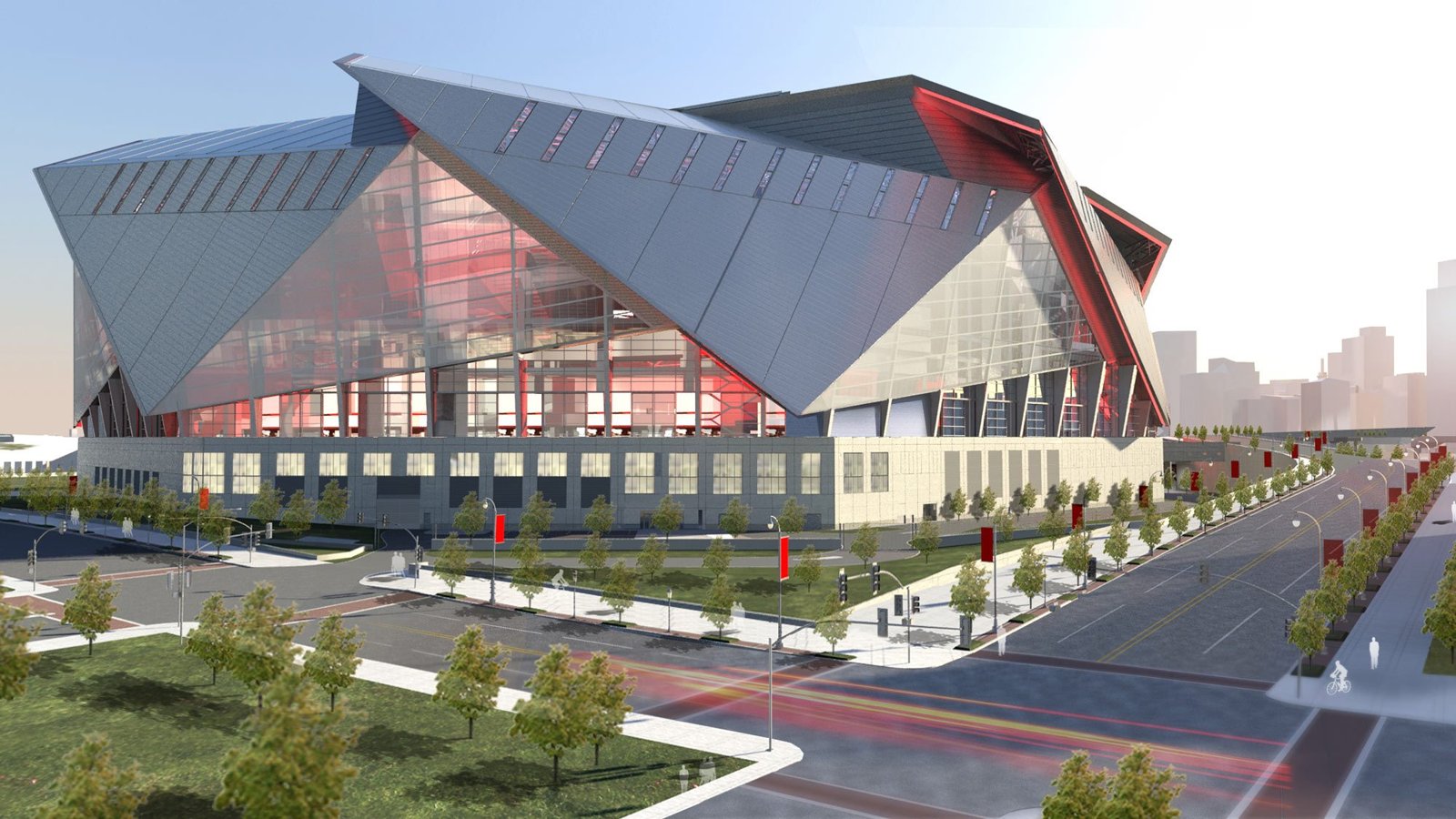 Mercedes-Benz Stadium design renderings
---
Rangers plans for a roof in arlington
---
Images courtesy of City of Arlington/Staff Photographer (www.sportsday.dallasnews.com/)
Arlington and Texas Rangers officials unveil plans for a new baseball stadium during a press conference in the Council Briefing Room at Arlington City Hall, Friday, May 20, 2016. Plans are for a new retractable-roof ballpark in Arlington. Texas will be home to 3 retractable roof parks, two for Baseball and  one for Football, Cowboy Stadium.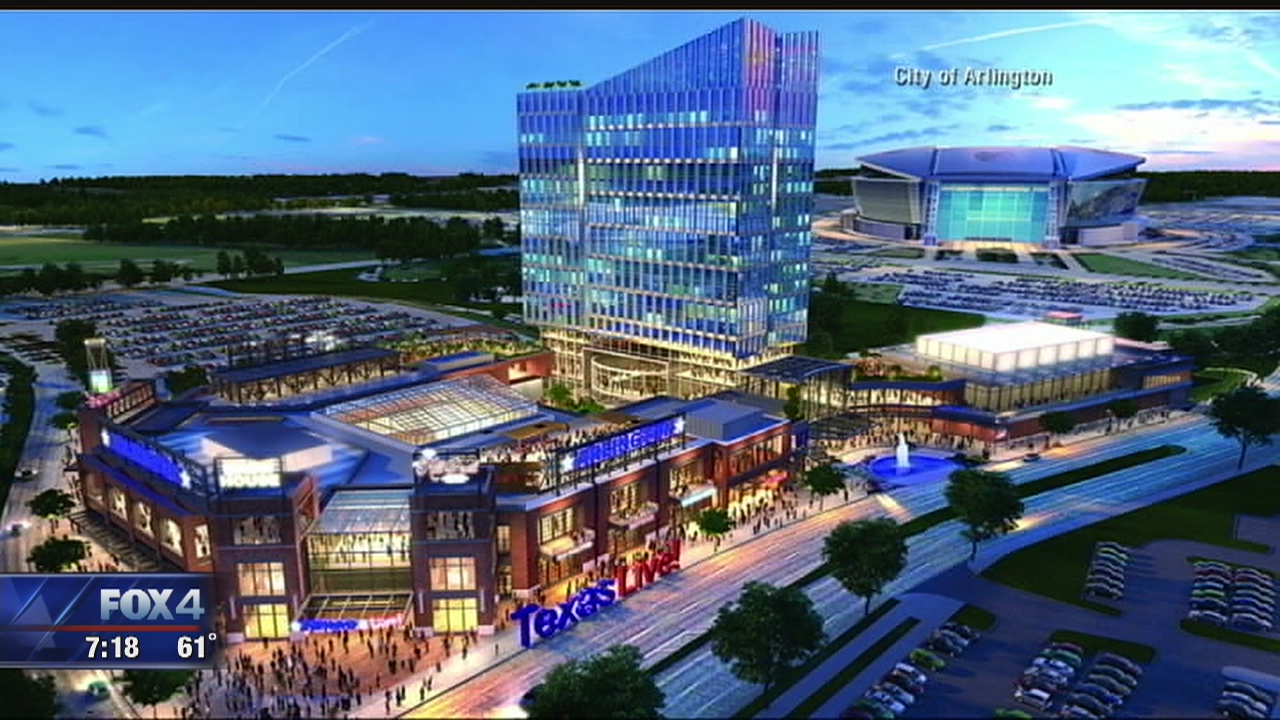 Texas Live Project, Home of the New Ranger Stadium. Image from; http://thescoopblog.dallasnews.com/2015/12/development-next-to-globe-life-park-to-be-called-texas-live.html/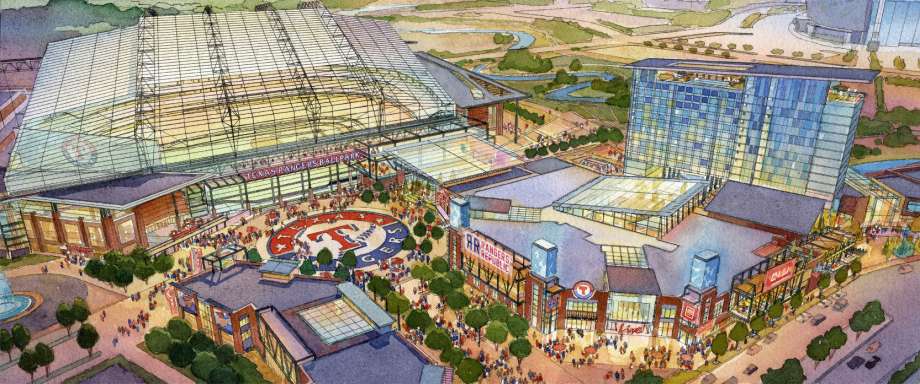 Image; New Rangers Stadium in Arlington, TX. http://sportsday.dallasnews.com/texas-rangers/rangers/2016/05/20/live-video-rangers-unveil-early-plans-new-arlington-stadium
---
Thank you for visiting and don't forget to join me and submit your email address and first name on the form below. Join the growing list of newsletter subscribers and stay abreast of latest in the Baseball History Community.