---
Wooden-Baseball-Parks......? Yes Wooden Baseball Parks....!


Some Of Them Literally Caught Fire..





---

Wooden-Baseball-Parks are the yard sticks used in judging every baseball stadiums that has been build. The first professional baseball venues were large wooden-baseball-parks with seats mounted on wood platforms. Although known for being constructed out of wood, they featured iron columns for better support.
As the game of Baseball grew to become a professional sport, team owners were very cost conscious in the construction of these new baseball stadiums. Wood was a much more cost effective building material and highly favored as the game developed.
These Wooden-Baseball-parks had few amenities, when compared to today's stadiums, but were quite glorious for their day.
However the heavy use of wood in these first baseball stadiums did have its drawback. As the wood aged it would dry out and many of these early structures caught fire and burned down.
While there is, still, an ongoing debate over the origins of the game of Baseball, history makes it clear where the growth of Baseball in America actually took place.
These early, All Wooden Structures, were the precursor to the Modern Baseball Parks that were soon to come.
---
---
Wooden-Baseball-Parks;




1871-1902




---
South End Grounds

Exposition Park 

Eastern Park  

American League Park   

Exposition Park 

Bennett Park

 Columbia Park  

Hilltop Park 

Huntington Av. Grounds

 Kennard Street Park    

 League Park    

 Lloyd Street Grounds

National League Park  

Baker Bowl
  Orioles Park l      

 Orioles Park ll 

 Orioles Park lll      

 Orioles Park lV   

Palace of the Fans

Polo Grounds l

Polo Grounds ll    

Polo Grounds lll

 Recreation Park  

Robinson Field 

 South Side Park

 Washington Park l  

Washington Park ll    

 West Side Park l  

 West Side Park ll  

Boston, Massachusetts

Pittsburgh, PA

 Brooklyn, New York

Pittsburgh, PA. 

Detroit Michigan

 Washington D.C.  

 Philadelphia, PA.   

Manhattan, NY.  

 Boston, Massachusetts

 Cleveland, Ohio   

 Cleveland, Ohio 

Milwaukee, Wisconsin 

Cleveland, Ohio

Philadelphia, PA. 

Baltimore, Maryland   

 Baltimore, Maryland

 Baltimore, Maryland  

 Baltimore, Maryland 

Cincinnati, Ohio      

Manhattan, NY.   

Manhattan, NY  

Manhattan, NY

Detroit, Michigan

 St. Louis, Missouri

  Chicago, Illinois  

 Brooklyn, NY  

 Brooklyn, NY     

 Chicago, Illinois      

Chicago, Illinois

1871

1890

1890

1891

1896

1901

1901

1903

1901

1879

1891

1895

1887

1887

1882

1890

 1891

1901

1902

1880

1889

1890

1881

1893

1893

1883

1898

1885

1893

---
Let's take a look at Four of these early Wooden-baseball-parks and take a stroll down memory lane.

---
South End Grounds;



---
The South End Ground was built in Boston Massachusetts. This all wooden-baseball-stadium opened in 1871 and served as the home for the Boston club in the National Association and the National League from 1871 to 1914. The South End Grounds was rebuilt twice during its lifetime, once by choice and later by necessity. South End Grounds was one of the first Wooden-baseball-parks. Because of is expansive center field dimensions it was often refereed to as a scaled down Polo Grounds.
Field Dimensions,
Left Field-250'

Center Field-445'

Left Center-440'

Right Center-440'

Right Field-255' 



---
Polo Grounds




---
The Original Polo Grounds was built in 1876 and as one of the early wooden-Baseball-Parks was far ahead of its time. The Polo Ground may have been the first Multi-Use stadiums built. The Polo Grounds name was given to three different stadiums that were built in Upper Manhattan, New York City. This wooden-Baseball-Park was used by professional teams in both baseball and American Football from 1880 until 1963.
In baseball it served as home for the New York Metropolitans' (1880-1885, New York Giants (1883-1957, New York Yankees (1912-1922) and the New York Mets' in the first two seasons of 1962-1963.
On Friday April 14th, 1911 the horseshoe shaped stadium was consumed by fire. Being constructed from mostly wood the fire raced through the stadium leaving only the steel uprights in place.
Opened-April 19, 1890

Closed-December 1963

Capacity-34,000 (1911) 55,000 (1923)

Demolished-April 10, 1964

Owner-New York Giants

Operated-New York Giants

Field Dimensions:

Left Field-279'

Left Center-450'

Center Field-483'

Right Center-449'

Right Field-258'
Aftermath of the 1911 Fire.



---
National League Park


---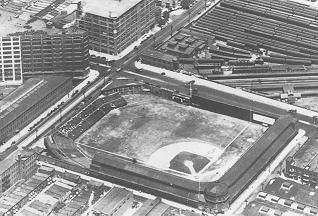 Built in 1887 National League Park was heralded as a State-of-Arts stadium. This Wooden baseball Stadium was constructed at a cost of $80,000 and it had a seating capillarity of 12,500. Initially known as Philadelphia Park or Philadelphia Base Ball Grounds it was later named Baker Bowl.
The Baker Bowl in Philadelphia was the first park to be built with steel and brick rather than wood as its primary material. It was considered to be the forerunner of what was called the "Jewel Box" ballparks.
Field Dimensions;
Built-April 30,1887

Closed-June 30, 1938

Demolished-1950

Left Field-341'

Center Field-408

Right Center-300'

Right Field-208'

Owners-Philadelphia Phillies

Operated-Philadelphia Phillies
---
Exposition Park



---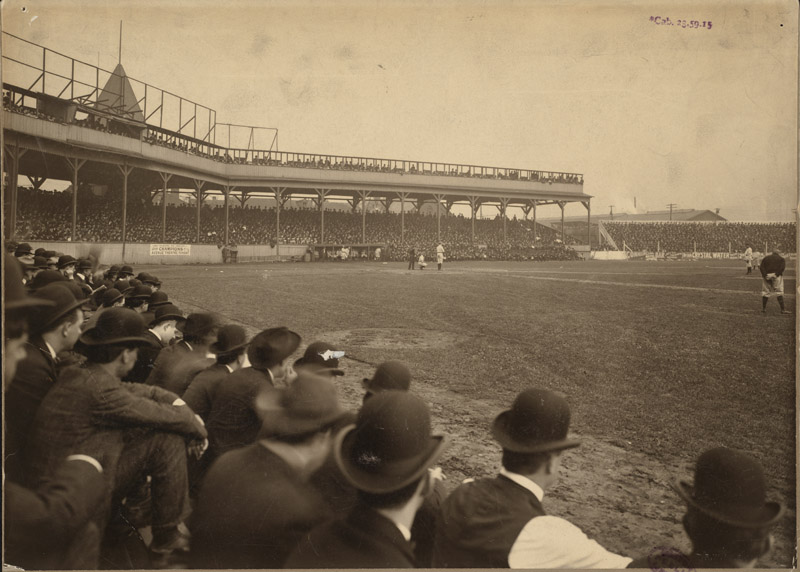 Built in 1890 This Baseball-park was built as home of the Pittsburgh Burghers of the Players' League. The Pirates played games at this stadium from 1891 to 1909. In 1903, Exposition Park was the first National League ball part to host a World Series game.
Named for other "expositions" that would be shown there, including horse racing and circuses, it was the first venue in Pittsburgh that hosted baseball.[3] 
In 1882, the Pittsburgh Pirates began play at Exposition Park, however, after one season a fire and flooding of the field from the nearby Allegheny River forced a second park to be built.[4] Despite the flooding of the first stadium, construction Exposition Park II was, again, built close to the River. 
Exposition Park was built in Allegheny, Pennsylvania—which was annexed by the city of Pittsburgh and later became known as the North Side—along the Allegheny River. 
Field Dimensions;
---
Wooden Baseball Fields
Do you have a great story about this? Why not Share it!
What Other Visitors Have Said
Click below to see contributions from other visitors to this page...


Oldest athletic field or park that ever hosted an MLB home team and world series.

League Park in Cleveland Oh is still in existence and is still an actual operating baseball park and has been used as an athletic field continuously …

Old Wooden Stadiums Still in Use Today

Kiger Stadium in Klamath Falls, Oregon is thought to be one of the remaining wooden baseball stadiums still in use today in the United States. The stadium …