---
"The Baker Bowl"
A Look at A Philadelphia Jewel Box that Burned Down, Collapsed Twice, But the Games Played On.
---
The Baker Bowl was one of the first major league baseball parks built in the United States.  Built by Phillies owners, Al J. Reach and John Rogers, it opened on April 30, 1887 in Philadelphia, Pennsylvania.  The initial park was constructed entirely of wood but it went through two variations, Pre-Fire (1887-1894) and Post-Fire (1895-1938).
In 1882 The City of Philadelphia was home to two major league baseball teams, the Philadelphia Athletics, charter members of the American Association and the Philadelphia Phillies' who played in the National Association.  The game of baseball was starting to explode in popularity with New York, New England, Chicago, Ohio and Philadelphia being the hot beds of baseball activity.
With two leagues now in place, American League and National League, baseball owners were in fierce competition for players and places to showcase their teams. If you owned a team you had to have a Jewel Box to be In-The-Game.
The rush was now on to build venues that would capture the ever growing hoards of baseball fans.The building of this Jewel Box was Philadelphia's entry into the Big Show.
Philadelphia fans were proud of their teams as were the fans in New York and New England with their teams. Sports writes from New York would poke fun at the oddities of the Baker Bowl while Philadelphia writes would hurl insults at New York's Polo Grounds. Sounds a lot like today doesn't it?
Although best known as The Baker Bowl this park carried several nick names during its existence. The Cigar Box, The Band Box, Philadelphia Base Ball Grounds, Huntington Field Grounds, Philadelphia Park and National League Park were all used to describe the Bake Bowl.
From opening day this park was heralded as a start-of-the-art baseball stadium and played host to a broad range of athletic activities. This park, like many to follow, served as a multi-use venue and its survival was dependent upon flexibility of use.
---
It was Made of wood!
---
There exist several misnomers about the Baker Bowl, one being that it was the first stadium to incorporate a cantilever steel structure. Not so, the park built in 1887 was constructed entirely of wood and the cantilever steel structure did not appear until after the fire destroyed that first park.
The fire in August 1894 provided the impedance for the rebuilding of this first park and the incorporation of concrete and steel as the construction material.  
August, not being a great month for this park, saw disaster strike again in 1903 when 12 people died and more than 200 were injured when the balcony field seats, along the third base line, collapsed and fell onto 15th Street.
The collapse was caused when a disturbance outside along the third base line caused fans to rush towards the top of the balcony to peak at the excitement. The added weight and motion caused the wall to fail and the structure collapsed.
---
lower deck COLLAPSES!
---
Police officers inspect the damage that resulted when stands behind first base collapsed during a game on May 14, 1927-Image; www.captainsblog.info
And if that was not enough, during a game on May 14, 1927, parts of two sections of the lower deck along the right-field line collapsed due to rotted shoring timbers. No one died in this collapse but nearly 50 people were injured which spawned a series of law suits that threatened to bankrupt the owners of the Park.
Despite its rocky beginning the Bake Bowl was a field where history was made and great performances put on display. Grover Cleveland Alexander displayed pitching brilliance in his 1916 season where he recorded 16 strike outs (In one game), 33 wins and 38 complete games. In August of 1925 Baker Field was the site where Kiki Cuyler of Pittsburgh scores two inside the park home runs in the same game.
---
opening game 1916
---
Woodrow Wilson became the first U.S, president to attend a World Series when he watched the second game in 1915 at the Baker Bowl with Mrs. Edith Galt, his future wife.
Adding to its rich history there were several Negro League games hosted here, most notable being the Negro League World Series games from 1924-1926. In 1929 an exhibition game between the Phillies' and a Negro League team was held and Babe Ruth, reportedly, hit two home runs that landed about half way into the rail yards behind right field.
---
Negro League world series 1924
---

---
Baker Bowl Stats:
Former Name; 

Philadelphia Base Ball Grounds (1887-1895 Pre-Fire)

National League Park (1885-1913 Post Fire)

Opened April 30, 1887
Closed June 20, 1938
Demolished  1950
Owner, Philadelphia Phillies
Operators, Philadelphia Phillies
Cost, $80,000 (2.07 million in 2013 dollars)
Capacity;

12,500 (1887-1894)

18,000 (1885-1928)

20,000 (1929)

18,000 (1930-1938)

Field Dimensions;

Left Field,-341 Ft (104m)

Center Field-408 Ft (124m)

Rt. Center-300 ft (91m)

Right Field-280 (85m)

Tenants;

Philadelphia Phillies-NL 1887-1938

Philadelphia Eagles-NFL 1933-1935
---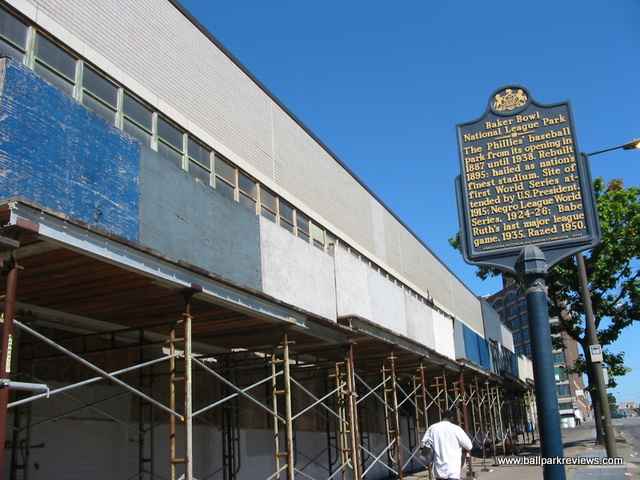 By the end of the decade the Baker Bowl was starting to decay and suffered from a lack of up-keep. Although praised as the finest Baseball Stadium in America at its beginning it was loudly ridiculed at its end. Shibe Park had been built across town and the Phillie's were looking to move to greener pastures. The Baker Bowl died a long and drawn-out death with its close in 1938 and final demolition in 1950.
---
enjoy the video
---