---
Wrigley Field Comes in Second to
Wrigley Field?
---
Image; Chicago Cubs Wrigley Field 100 Years. shop.mlb.com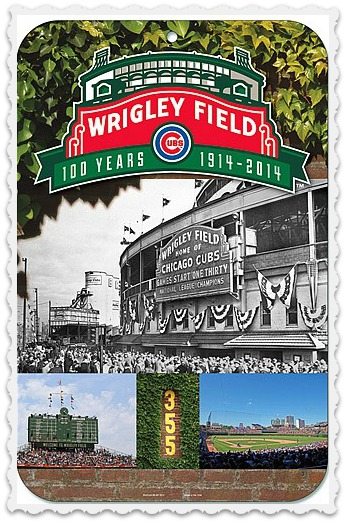 WrigleyField may soon secure a spot in the National Register of Historic Places. As the second-oldest, active, baseball park in the major leagues it would join Fenway Park as one of America's two most historic baseball parks.

This year (2014) WrigleyField will celebrate its 100 year anniversary. Like Fenway park the Wrigley Field celebration will surely be a memorable festival.
With that being said, did you know that the WrigleyField, built in Chicago, 1914, was one of two baseball parks built that carried the same name?  One built on the North side of Chicago and the other built in Los Angeles, California.

The park built in Chicago is the most heralded of the two and has survived for over 99 years. The California park, built in Los Angeles, carried its own unique history and was equally cherished on the West Coast for nearly 45 years.
Historically speaking, WrigleyField-Los Angeles was the first of the two parks to carry the name Wrigley Field. It was built and opened in 1925 and, as the name sake, predates the more famous Chicago field by over a year
---
Image; iSportweb.com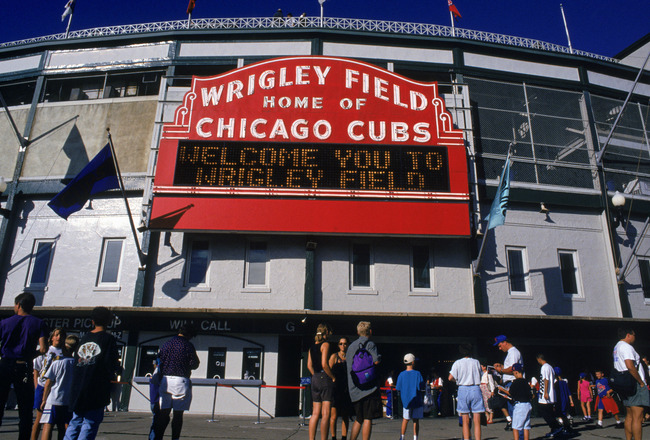 Chicago's WRIGLEY FIELD;
The growth and popularity of baseball in Chicago rivaled that of New York, Pennsylvania, Ohio and New England. Like the other major cities, Chicago was home to both a National League team (Chicago Cubs) and a American League team (Chicago White Sox).
Chicago also had the distinction of being home to Chicago Whalers (Often called the "Chicago Federals" or "Chi-Feds") which was a professional team owned by Charles A Weegham.
WrigleyField was originally built as a home for Charles Weegham's Chicago Whalers of the Federal League, a third major league that operated in competition with the already established National and American Leagues.  At that time it would carry the name Weeghman Park (Later Cubs Field).
---
Image; Baseballhotcorner.com (Travis Richardson)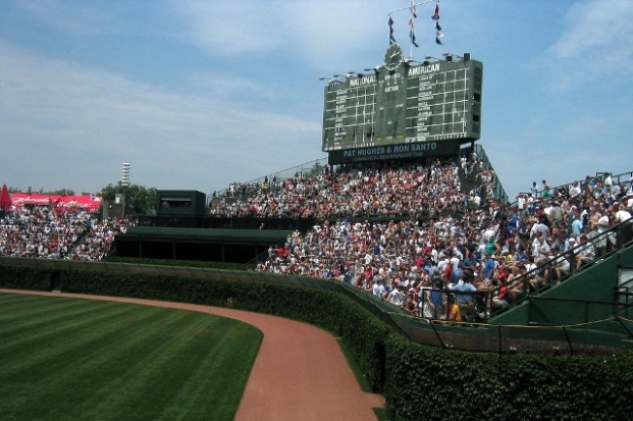 It was designed by architect  Zachary Taylor Davis, utilizing the latest in concrete and steel construction to compete with the new group of Jewel Box stadiums being built like Chicago's Southside, Comiskey Park built in 1910.
As a team owner, Charlie was noted for his flamboyant and sometimes lurid style. He would challenge the established Baseball community with his efforts to add teams and players. He continually found himself at odds with the other two leagues throughout his tenure.
Characterized as an "Outlaw League" the Federal League and Charles Weegham routinely ignored the reserve clause agreement which had been authored by the National and American Leagues owners. It could be argued that his practice of enticing quality players through inflated salaries lead to the eventual demise of the Federal League, in 1915.
On August 16, 1921, Weegham sponsored the first state-wide rally of the Ku Klux Klan on his property in Lake Zurich, Illinois. Although a successful rally it would further damage his reputation in the baseball owners community.
But it was when Weegham attempted to steal Walter Johnson from the Washington Senators that he would find his days as a baseball owner start to dissolve.  Johnson signed a three year deal with his Chicago team which sparked a subsequent law suit against the National League, (Federal Baseball Club v. National League) in 1922 that would eventually be argued in the Supreme Court (Sherman Antitrust Act)
By 1918 Weegham would see his financial empire crumble and was forced to sell off all his stock  in the Chicago Cubs to chewing gum magnate William Wrigley Jr, in order to raise money.
William Wrigley Jr immediately moved to rename the 1914 park, WrigleyField. The name change was officially registered in 1926, a little over a year after Wrigley Field Los Angeles was opened in 1925.
---
WrigleyField Chicago

Stats & Feature


Built As;

Weegham Park                    (1914-1920)
Cubs Park                           (1920-1926)
Wrigley Field                       (1923-Current)
Owner;                               (Chicago Cubs)
Architect;                         (Zachary Taylor Davis)
General Contractor           (Blome-Sinek Company)
Capacity;                            (41,019-42,374)
Field Dimensions;
·        Left Field             355ft
·        Left Center          368ft
·        Center Field         400ft
·        Right Center        368ft
·        Right Field           353ft
Seating;
·        3619 N. Sheffield
·        1010 W. Waveland
·        3643 N. Sheffield
·        1044 W. Waveland
·        3621 N. Sheffield
·        1050 N. Waveland
·        3649 N. Sheffield
·        3639 N. Sheffield
·        1032 W. Waveland
·        3637 N. Sheffield
·        3617 N. Sheffield
·        1048 W. Waveland
·        3627 N. Sheffield
·        3609 N. Sheffield
Memorable Moments;
·        Babe Ruth points to the bleachers and calls his Home Run in the 1932 World Series versus the Chicago Cubs.
·        Ernie Banks hits Home Run #512
·        Iconic Ivy covered outfield wall planted by Bill Veeck in 1937. The Ivy was a combination of Boston Ivy and Japanese Bittersweet for its resistance Chicago's cold winters.
·        Rooftop Seating becomes official part of the Wrigley Fields game viewing experience.
·        One of only two major league ball parks to maintain a manual scoreboard, Fenway Park being the other. Built in Center Field, no player has ever hit this scoreboard during game play.
·        Last major league ball park to install Lights for night play. First night game played on August 9, 1988.
·        Glenallen Hill hits amazing 500ft+ blast out of Wrigley Field onto the rooftop across Waveland Ave (May 11, 2000).
·        Home of the Infamous "Curse of The Billy Goat"
Wrigley Field 1-Los Angeles; Continued!>>
---