---
Modern-Baseball-Parks.
Searching for an identity


---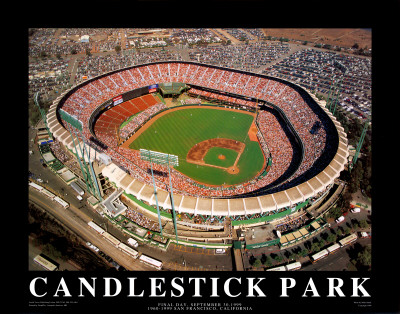 The first of the truly Modern-Baseball-Parks appeared in California with the building of Candlestick Park in San Francisco and later Dodger Stadium in Los Angeles.
Big League Baseball had finally made its way to the west coast when, in 1960, two of the East Coasts most cherished baseball franchises, the Brooklyn Dodgers and the New York Giants, moved to California.
Baseball has come of age and baseball venues were in perpetual change.
The success of any baseball business is defined by how many fans you can get into their seats but getting them there was influenced greatly by the stadiums themselves.
Baseball was truly a business and business 101 states that if you give the people what they want, they will come back for more and baseball was no different.
---
Dodger Stadium


---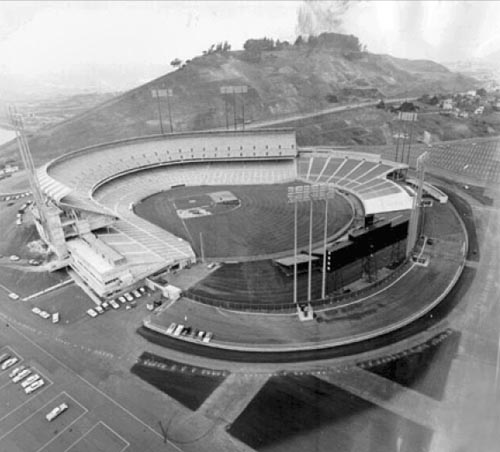 Photo courtesy San Francisco Public Library, Historic Photos collection
Modern-Baseball-Parks are loosely defined as those parks built specifically for Baseball. Almost all of the baseball stadiums built after the Jewel Box era was Multi-purpose ballparks and as such were modified to accommodate baseball.

While it only made business sense to squeeze as much out of your investment as possible, owners were in a constant dance deciding how to provide baseball ambiance for the fans while still capitalizing on the parks underused functionality to power these money making architectural marvels.
The Modern Baseball Parks were designed to bring the feel of Baseball back to the fan. Candlestick Park, one of the first, was built as the home of the San Francisco Giants of the National League. Although it was built and dedicated to baseball it succumbed to functionality and was eventually converted to a Multi-Use stadium to accommodate the San Francisco Football team, the 49ers.
---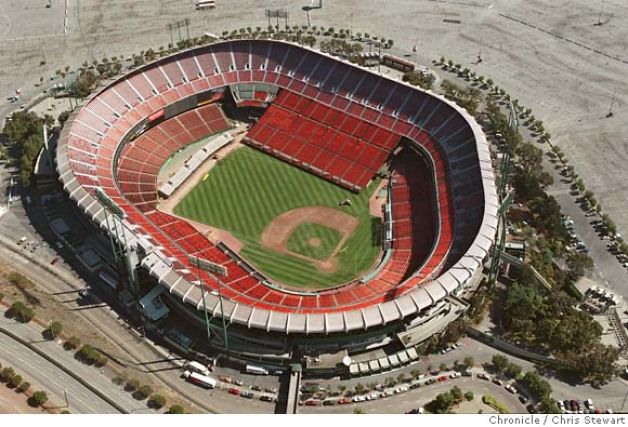 Image; www.footballnewsnow.com-Image may be subject to copyright.
In trying to respond to the cries of the fans, owners walked a thin line between profits and losses when moving towards building these, baseball only, venues.

Competition for quality venues grew hot between Football and Baseball owners.  Multi-Use stadium design offered owners the financial solution but not, necessarily, what the baseball fans really wanted.
The modern baseball parks would struggle for an identity in this rapidly growing game of baseball. 
These Modern-Baseball-Parks marked baseballs first attempt at reclaiming the look and feel of the classic venues of the past.
Here we will take a closer look at some of these great stadiums and try and capture that feel.
---

·        Anaheim Stadium                     Los Angeles, Ca

·        Arlington Stadium                    Arlington, Texas
·        Candlestick Park                        San Francisco, Ca.
·        Dodger Stadium                         Los Angeles, Ca.
·        Kauffman Stadium                   Kansas City, Missouri
·        Metropolitan Stadium             Bloomington, Minnesota
·        Milwaukee County Stadium-  Milwaukee, Wisconsin
·        U.S. Cellular Field                     Chicago, Illinois
·        Yankee Stadium l                      Bronx New York City
ANAHEIM Stadium-Los Angeles, CA

Anaheim Stadium 1966

Kauffman Stadium-Kansas City, MO

Truman Sports Complex-The Athletics left Kansas City for Oakland after the 1967 season.

US CELLULAR Field

U.S. Cellular Field at night in 2007

Arlington Stadium-Arlington, TX

Arlington Stadium

Milwaukee County Stadium-Milwaukee, WI

1953 Milwaukee Braves County Stadium Wikipedia - "Milwaukee County Stadium (or just County Stadium in context) was a ballpark in Milwaukee, Wisconsin from 1953 to 2000.

The Old Yankee Stadium-Brooklyn, NY
---
What Is Your Favorite, Modern Baseball Stadium?
I am a Rays Fan and love the atmosphere of Tropicana Field. What's your favorite baseball stadium and Why.

Share your story and win a $10.00 Gift Card for your contribution.