---
Chase Field-Phoenix, Arizona
Too Hot Not To Put A Retractable Roof On It.
---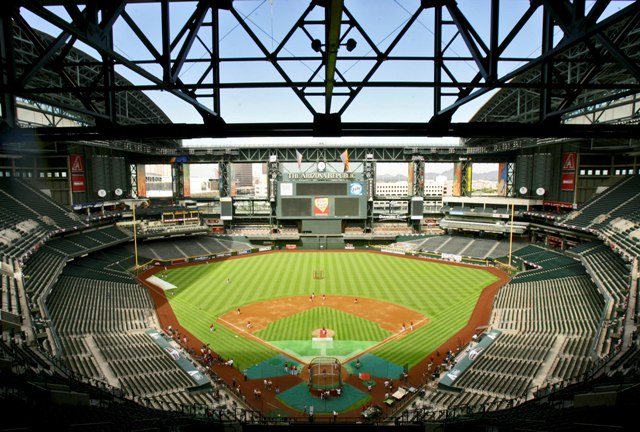 Chase Field was the first of the Retractable-Roof-Ballparks built in the United States.
It was Canada, however, that holds the distinction of hosting the first, MLB, Retractable Roof  Baseball Stadium.
It was marked with the building of The Rogers Centre, in Toronto, Ontario.
But this article is about Chase Field and it is the home of the Arizona Diamondbacks.
It opened in 1998 and located in the extreme heat of Phoenix, Arizona.
The stadium was designed and built as a fully air conditioned Stadium. Fully air conditioned meaning that it operates even when the roof is open.
Chase is the only current Retractable-roof-ballpark offering that feature.
Of the current major league baseball franchises, Phoenix, Arizona experiences some of mother nature's most extreme conditions.  
With average temperatures hovering around 99.1 (F) and regularly spiking over 100 (F) during baseball season, a retractable roof was an absolute must for this location.

---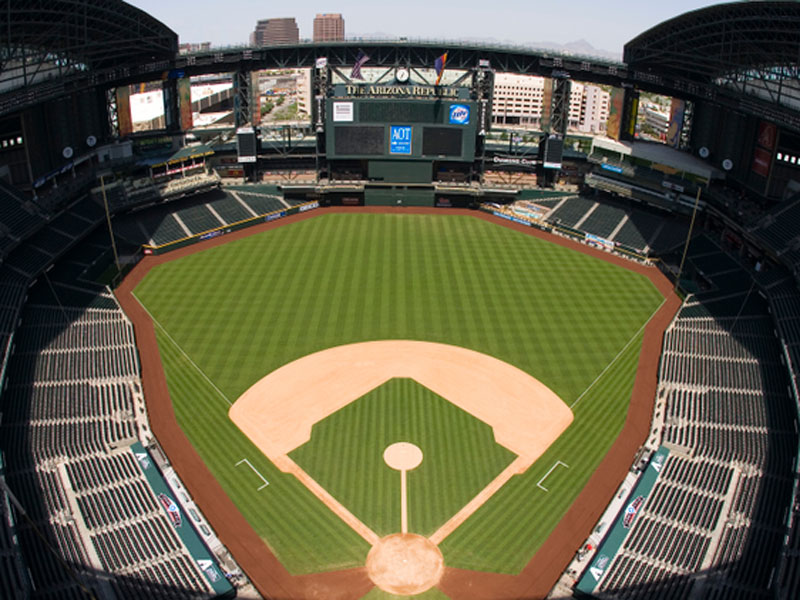 The Field itself hearkens back to the days of old with the distinctive dirt strip running between home plate and the pitcher's mound. Although common in the early ballparks this strip is present in only one other modern baseball park (Comerica Park).
Built as a Baseball only stadium it was designed, from its inception, as a Multi-use venue. Like all of the Multi-Use parks before it Chase Field would play host to a variety of non baseball activities to help support its existence.
---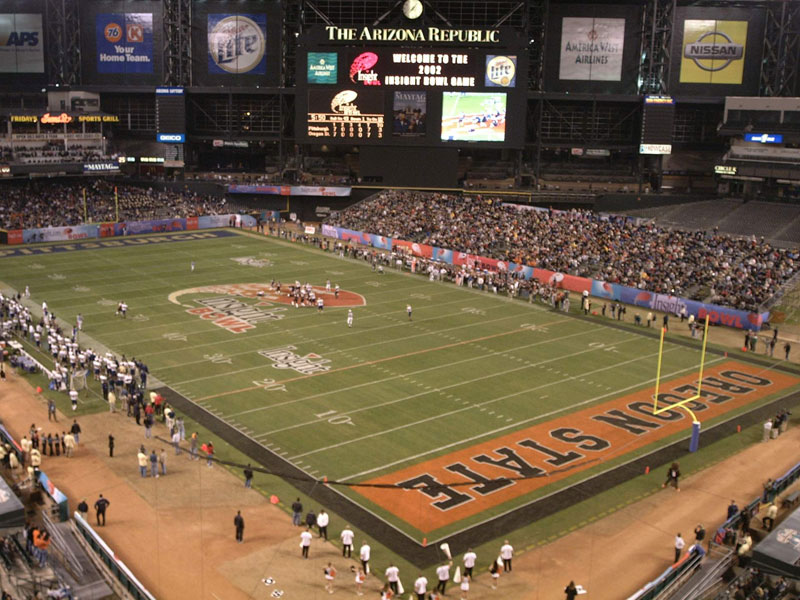 Football
Basketball
Concert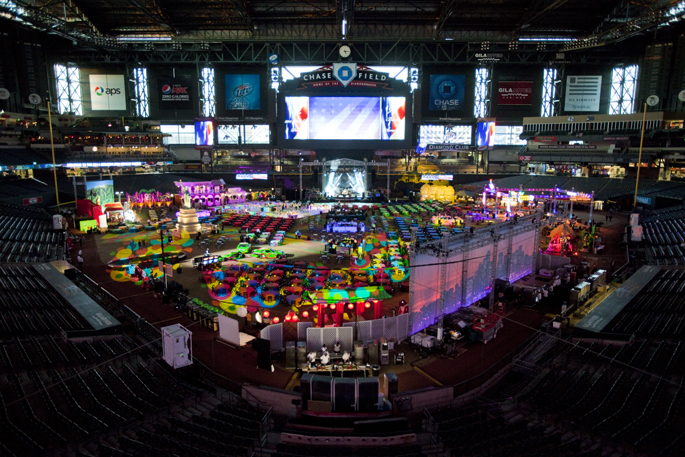 Conventions
---
How Does The Retractable Roof Work?
---
Chase Field's Retractable Roof is an engineering marvel. Operating on the same principle and technology found in drawbridges and overhead traveling cranes, it is powered by two 200-horsepower motors. It uses more than four miles of cable strung through a pulley system that opens and closes the roof itself.
Each half of the roof is made of three movable trusses which telescope over a fixed end truss. Each side can operate independently allowing it to open to any position to maximize sunlight for the all natural turf.
The roof contains over 9 million pounds of structural steel and can be open or closed in slightly over 4 minutes. It is truly a highly engineered work of art that makes visiting Chase Field a cool and comfortable place to watch daytime baseball.
---
Construction Cost
---
The construction of Chase Field started in 1996 and finished just before the beginning of the Diamondback's first season in 1998.
The stadium cost was originally estimated at $279 million in 1995 but by completion it soared to over $364 million.
Much of the funding for the stadium came from tax increases financed by tax payers. Not all of the tax payers agreed with the increases and their expression of discontent played out in a shooting that injured one of the County Supervisors.
Mary Rose Wilcox was shot and injured by Larry Naman, a homeless man, who disagreed with her support for the tax increase. Naman was found guilty of attempted first-degree murder and was sent to prison.
---
Stadium Amenities
---
The key-mark feature of Chase Field is its Swimming Pool. The pool, however, is only available to those fans who purchase entry to the party suite which is where the pool resides.
At a cost of around $3500 per game it may be out of reach to many of the everyday Diamondback fans.
But if you like to eat at a baseball game, all of us do, the dining options are expansive. You will find an eclectic variety of options to tantalize your taste buds. 
---
"BALLPARK CUISINE" 
---
---
Field Facts
---
Opened:
Broke Ground:
Former Owners:
Owner:
Location:
Field Size:
Left Field

 – 330 ft / 101 m




Left-Center

 – 374 ft / 114 m

Left-Center (deep) – 413 ft / 126 m

Center Field – 407 ft / 124 m

Right-Center (deep) – 413 ft / 126 m

Right-Center – 374 ft / 114 m

Right Field – 334 ft / 102 m

Field Surface:
---
Thanks for visiting and go ahead and leave me a comment and let me know how I can make this site better.
Come back soon and visit some of the other Retractable Roof Ball Parks that have become so popular for Fans like You.  
---

When I started this article I found myself a bit confused. What was the Park's actual name?,  Was it Washington Park and if so Why? Who was in charge of naming these new structures? Why did they all have more than one name at the same time?
Well as it works out the blame lies with the Baseball Owners. Almost every new stadium built carried the phrase "Also Know As" and that is how the Fans liked it. It was actually the Fans that determined what name the stadium would carry. 
Brooklyn had it's Park but so did Chicago, Philadelphia, Ohio and Missouri. Each parks name was fueled by the neighborhood in which belonged. When you look at it there is no difference even in today's Baseball
The growth and popularity of almost every region of America was dependant on  the presence of a Professional Baseball Stadium.
The Stadium was one of those Historic Cathedrals but it would die before it's time.
It was clear that the ultimate value of a Baseball Stadium comes from the performances on the field. Those performances are made memorable because of the Athletics who played the game. Player acquisition became an art form and, often times that quest would, challenged the legal system.
Player stealing and Team Hopping became a way of life and ultimately led to the adoption of ,what is now, the Collective Bargaining System.
It was the Home runs that brought the fans to the parks and Eastern Park could not deliver. To add insult to injury the park was built in what was called the Dead Ball Era which exasperated the parks woe's
Home> (Baseball Field History, The Evolution of Our Field of Dreams)
---
Eastern Park & The Home Run
---
This new stadium was a Glorious Cathedral that was eagerly anticipated. This original, all wood, structures was built on a large parcel that allowed the field dimensions to be very large. The finished Stadium, like most of the time, was too big and didn't give the fans what they were looking for, the Home Run.
A Home run to left had to travel over 300 feet and clear a wall 25ft high. It took a shots of over 380 feet in the allies and over 410 feet to dead center.
It was the Home runs that brought the fans to the parks and Eastern Park could not deliver. To add insult to injury the park was built in what was called the Dead Ball Era which exasperated the parks woe's
Follow Us Also @
---
This work is licensed under a
Creative Commons Attribution 3.0 Unported License
.
© Copyright 2015/2016  aplussportsandmore-fanshop-baseballfield.com (A+ Sports & More, LLC) All Rights Reserved