Coleman Field at Oregon State University
by Anonymous Donor
(I.P. address: 69.59.203.92)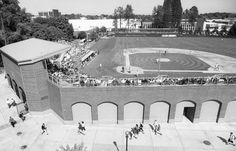 Park Dimensions; The park is symmetrical, measuring 330 feet down the foul lines, 365 to the power alleys and 400 to center. The fence is 14 feet high from left field to left-center, then eight feet high from left-center to right field. The stadium was designed to complement the architecture of the surrounding campus, and to evoke the aura of baseball's historic parks.
The field was established in 1907, with the first game being played on April 12, 1907.

Coleman Field, is yet another of America's Oldest baseball parks that to lay claim to being the oldest continuous ballpark in the nation.
OSU is proud of the fact that it is the location of a ballpark built more that 100 years ago. With that pride came the dedication to preserve what they felt was a national treasure.
The stadium has undergone several renovations and upgrades to keep pace with the speed of play of its growing student body. Coleman Field has hosted championship contests going back to 1907.